Short Central Florida Fishing Report

Thank you for reading this short central Florida Fishing Report. I got out two days this week.

Tuesday I took a kayak to the Indian River Lagoon, launching at Patillo Creek. Some stuff that had caught my eye a couple weeks before needed exploration. I was out two hours, paddled maybe four miles and saw one fish. I also caught a short seatrout by blind casting. There is no seagrass at all. The fishing was definitely not great.

It was a gorgeous day and I had time, so I went to WSEG and launched there. On the bright side the water was relatively clean. I could see the bottom in 15 inches or so of water. On the other hand, not a blade of grass did I see.

I explored around several spoil islands. I did not see a fish but got a short redfish and several short seatrout by blindcasting. One good thing about the fishing not being good- you end up having the entire place to yourself.

Wednesday afternoon I took the Bang-O-Craft to CS Lee park, hoping to get my first shad of 2020. The parking lot was deserted, never a good sign. I hit one on my second cast, and caught three in about 40 minutes on little crappie jigs. Mission accomplished! The next three hours I got one smalllll crappie, the only bite I got. The fishing was definitely not great.

And that's my short central Florida fishing report. Thanks for reading it!

Life is great and I love my work!

Every day is a blessing. Don't waste it- Go Fishing!

John Kumiski, author of Fishing Florida by Paddle- An Angler's Guide
Purchase Fishing Florida by Paddle- An Angler's Guide at http://www.spottedtail.com/fishing-florida-by-paddle/

All content in this blog, including writing and photos, copyright John Kumiski 2019. All rights are reserved.

Orlando Area Fishing Report
Upcoming Events-
– Merritt Island National Wildlife Refuge Clean-Up, February 9, 2013. Contact Nancy Corona, 321-861-0668 or nancy_corona@fws.gov
-Titusville Surf Fishing Workshop, Wednesday, March 6, 6-8 pm. There are several other surf workshops coming up along the Space Coast in the next two months. For more information please email Rodney Smith irlcoast@gmail.com
–Mosquito Lagoon Show and Tell Fishing Seminar, MINWR, March 2; On-the-Water Show and Tell Seminar, March 3
Blog Posts this Week-
–UV Skinz- A Review
Tuesday's out-of-the-box thinking led to some excellent fishing.
I left the house at close to three o'clock in the afternoon, heading to River Breeze, armed with a kayak and a three-weight. After paddling to the fishing spot I was happily surprised to see redfish tailing all over the place. It was cold and windy- I was not expecting this.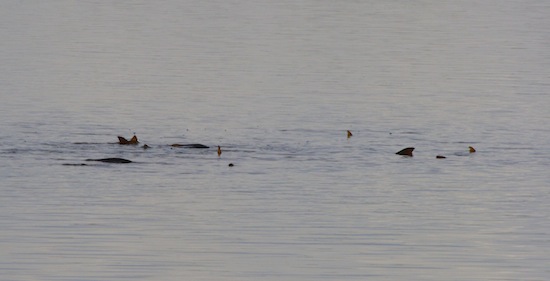 The first two clumps of tailers refused the fly, which led to a change. Three fish were boated and released before sunset, an outstanding evening's outing.
Wednesday morning found me in the same spot with the same tackle. The tailers were gone. At a different spot a trout chased several mullet to the surface. Some blind casting with a minnow imitation led to two missed strikes, and the capture of two nice trout. The bigger of the two was at least two feet long. A redfish fell for the fake, too.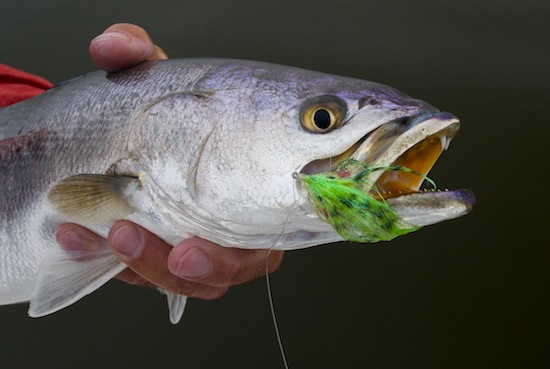 On the way back to River Breeze I found some more tailing redfish, and managed a nice one on a little shrimpy looking fly. It was a beautiful if chilly morning. The fish were just icing on the cake.
Thursday I launched at KARS Park as the sun came up. It was a gorgeous morning. There was no one else there, which made me think I wouldn't find any fish. I paddled quite a distance, and loaded the kayak back onto the chariot at 1 PM, not having seen a single fish. Won't be going back there for a while.
Friday Dr. George Yarko joined me for some Mosquito Lagoon fishing. We went to where all those fish were last week, didn't see any. When I started up again the steering cable went. We drifted most of the way back to Haulover, casting DOA Shrimp. We got a load of trout, mostly shorts. I cleaned two fish for Mary Jo, who was glad to get them.
And that is this week's exciting version of the Orlando Area Saltwater Fishing Report.
Life is great and I love my work!
Life is short. Go Fishing!
John Kumiski
http://www.spottedtail.com
Latest posts by John Kumiski
(see all)