Port Canaveral and More Fishing Report
Thank you for reading this Port Canaveral and more Fishing Report.
Sunday morning, sick of being house-bound, I had Susan drop me off at the 419 bridge over the Econ. No fish were harmed in the making of this trip. It was a speed test. I left the bridge at 9 am, reaching Snow Hill Road at 1140. Pretty zippy! Saw only seven alligators!

Love, love, love to see this!
Monday– Susan joined me for a Port Canaveral scout. She has to limit her sun exposure, so it was to be a short trip. Launched the boat at 9, ran up the beach. Found a large school of breaking mackerel and caught a few, then continued on. Found a spot with some bluefish. Headed out to sea. Lots of tunny! Got one on a jig, then headed back to the port. Done at noon.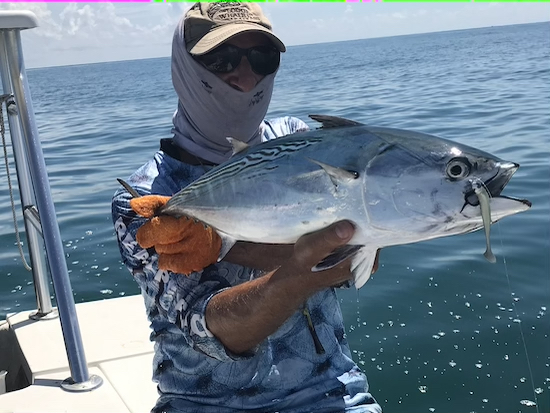 First tunny of the season for me. Here's to many more!
Tuesday– family beach trip to Bethune Beach. There were balls of glass minnows along the beach. I did not see any tarpon, but something (I suspect ladyfish) was wearing those poor minnows out. Saw larger fish breaking sporadically farther out. I'll be happy when Canaveral National Seashore starts opening early in the morning again.
Wednesday– Walt Shepperd joined me for a Port Canaveral trip. Boat left the dock at 730. Found a small school of breaking mackerel, caught a few. I tossed a Sting Silver , Walt a No-Eql . The macs were relatively small ones. They were scattered all along the beach. The bluefish were still at the bluefish spot.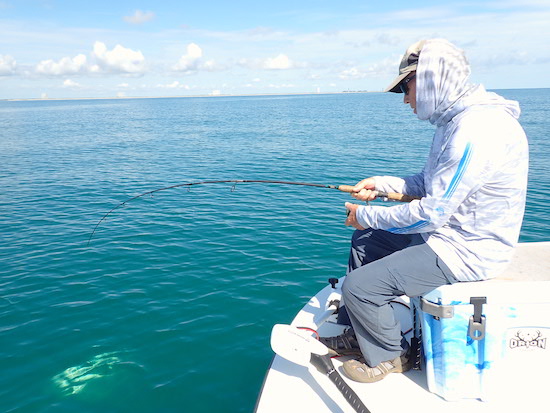 Walt battles the wicked tunny.
We went out looking for tunny. We only found a few at first, but they got really thick, just awesome. I love watching them blitz! The Sting Silver worked best, although I did get one on a streamer.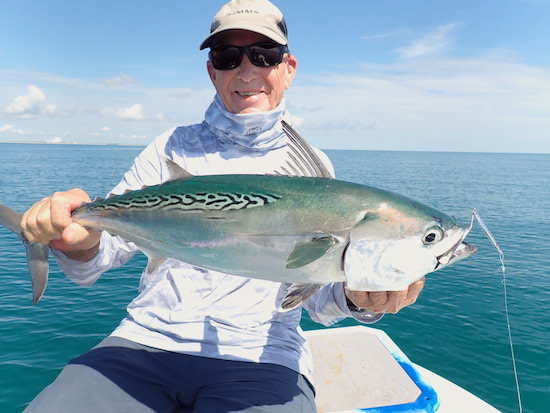 It was a beautiful fish!
We caught 30 or 40 fish, a great morning all-in-all. Thanks for joining me, Walt!
Thursday– had errands to do, and then had the great pleasure (!) of pressure washing my driveway.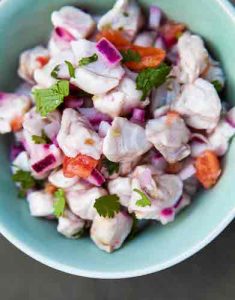 Not my photo, but this is ceviche.
Friday– I wanted to make ceviche and needed a fish, so I boldly took the kayak to Mosquito Lagoon looking for a slot redfish. I found one, 23 inches, that took my slider. The filets are in my refrigerator as I write this (it's the first redfish I've killed in four or five years), and the ceviche will be eaten for supper tonight. Bon appetit!
Time for Some Simple Frugality??
Two centuries of industrialization, population growth, and frenzied economic activity has bequeathed us smog; polluted lakes, rivers and oceans; toxic waste; soil erosion; deforestation; extinction of plant and animal species, and global warming. The philosophy of frugal simplicity expresses values and advocates a lifestyle that might be our best hope for reversing these trends and preserving our planet's fragile ecosystems.
Think about it.
Thanks for reading this Port Canaveral and more fishing report!
Life is great and I love my apparent retirement!
Every day is a blessing. Don't waste it- Go Fishing!
John Kumiski, author of Fishing Florida by Paddle- An Angler's Guide
Purchase Fishing Florida by Paddle- An Angler's Guide at http://www.spottedtail.com/fishing-florida-by-paddle/
Latest posts by John Kumiski
(see all)