May Day Central Florida Fishing Report
Thank you for reading this May Day central Florida fishing report. I hope you enjoyed your May Day!
I forgot to put a fishing quote in last week, so we get a double scoop today.
A fisherman is always hopeful- nearly always more hopeful than he has any right to be. -Roderick Haig-Brown
FISHING!
Monday
On Saturday Mike Conneen called me and asked me to join an Econ party on Monday. I didn't see how to maintain social distance while doing the shuttle between Snow Hill Road and CS Lee Park, and regretfully declined. Monday morning the weather was great, though, so I asked Susan to give me a ride to the river crossing and drop me off. I'd call when I got to CS Lee. I started paddling at 0900.
If you're looking for Plecostamus, the Econ is the place to be. There are thousands of them. I don't know that they've affected the native fish, but I do know there are a lot fewer natives than there used to be.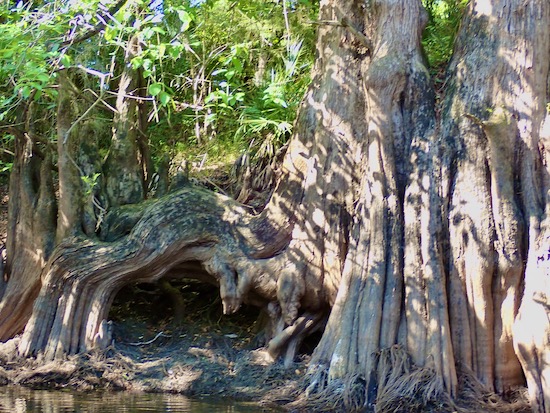 A particularly interesting cypress tree.
Took a break and saw a hummingbird looking for flowers. I could not have been more than three inches long. Also saw an eagle and a blue heron in the same place, just for size contrast. The birding was pretty good, and there were some reptiles too- gators, and cooter turtles, and slider turtles. No snakes though.
I found a dead fish. A catfish with a big lesion behind its head swam past me.
I didn't fish hard, since I got a late start and had a long way to go. Fishing was not good though, with two bass and two stumpknockers coming to hand, all on a mousy gurgler.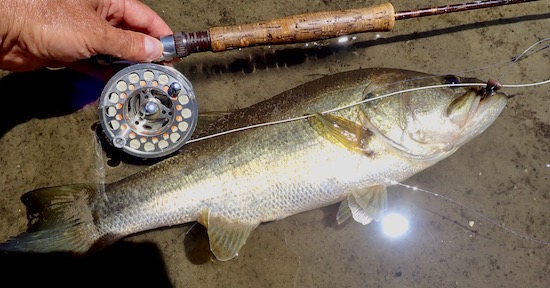 Lousy photo, but the best bass of the year for me.
I got to where the trees end and the pastures start and caught up to Mike and Tammy. We paddled together for a few minutes, then I went on ahead. Susan picked me up about 1630.
Tuesday– went to Mosquito Lagoon for some kayak fishing. Went to a new spot. Got two nice reds on the redfish worm fly (haven't typed that in a while). It was another spectacular day weather-wise.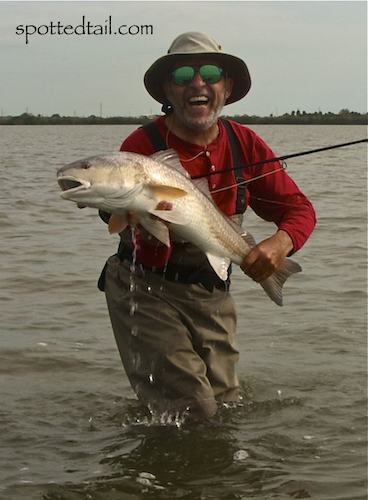 file photo
I am re-wiring the Mitzi myself, and working on a book. That took up some of the rest of the week. Keeping me sane while I remain in self-quarantine.
Friday– took Susan to Mosquito Lagoon in the Bang-O-Craft for a little island hopping. We brought folding chairs to sit in, watching the passing boats in the ICW. God had brushed the sky free of clouds, amazing weather again.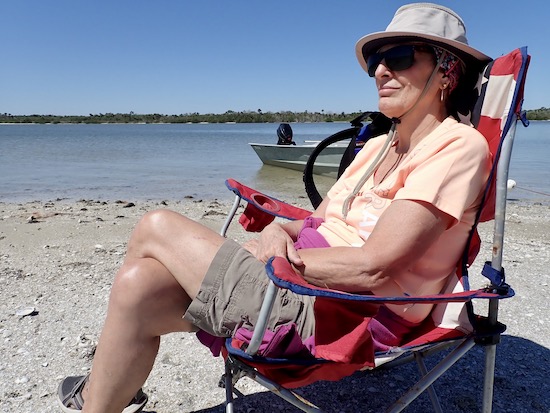 Enjoying the day!
I fished a little bit with the DOA Shrimp. I had been using the same one for a month or so. A puffer ended that streak, the only bite I got. I saw a bonnethead shark swim by, the only fish other than mullet that I saw.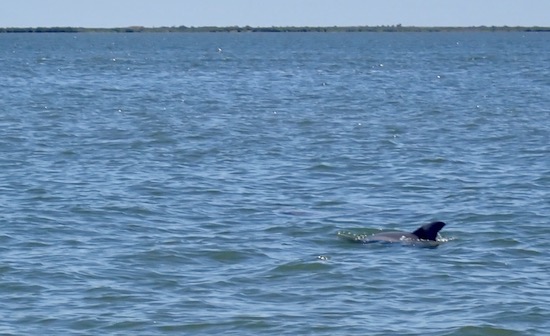 Dolphins always seem to enjoy the day!
We saw a hog, and three manatees, and a couple dolphins, along with the usual bird life.
An appropriate quote for the time of year- Anyone can be a fisherman in May. – Ernest Hemmingway
Life is great and I love my work!
Every day is a blessing. Don't waste it- Go Fishing!
John Kumiski, author of Fishing Florida by Paddle- An Angler's Guide
Purchase Fishing Florida by Paddle- An Angler's Guide at http://www.spottedtail.com/fishing-florida-by-paddle/