Central Florida Fishing Report
This is a central Florida fishing report covering the Indian River Lagoon, the Mosquito Lagoon, the Atlantic Ocean, and the Econlockhatchee River. Yeah, we got around this week.
Upcoming-
-Mosquito Lagoon Show and Tell Seminar, March 23. An all-day fishing seminars that take place in the Merritt Island National Wildlife Refuge, with the express goal of helping you catch more fish in the Indian River and Mosquito Lagoons. For more information, http://www.spottedtail.com/mosquito-lagoon-show-and-tell-fishing-seminar/
-On-the-Water Show and Tell Seminar, March 24. Fun, educational four hour fishing seminar that takes place in my Mitzi on the waters of the Mosquito Lagoon, with the express goal of helping you catch more fish. For More information, http://www.spottedtail.com/mosquito-lagoon-on-the-water-show-and-tell-fishing-seminar/
Monday found me paddling on the Indian River Lagoon. It was pretty windy. I found a few redfish tailing but could not get near them. The waves made the kayak slap, and the fish all disappeared before I could get into fly casting range. Three dink trout managed to get impaled on the point of the fly's hook, though.
Tuesday I took the Mitzi out of River Breeze to see how far south the clean water went. And, as long as there was clean water, I could do a little sight fishing, too. Find some fish for the upcoming trips, maybe. Such an idea!
I looked in a half-dozen spots, working as far south as Tiger Shoal. The water was still clean there. Fish were scarce, though. While I did see a few black drum and redfish I didn't get a shot at them. Blind casting with the shad imitation netted me a few dink trout.
Working my way back north I fished a flat which has been a fish producer in the past. There were some redfish and decent sized trout there. I got a nice slot red and a solid 20" trout, and pooched a couple of strikes. It was a nice way to end the day.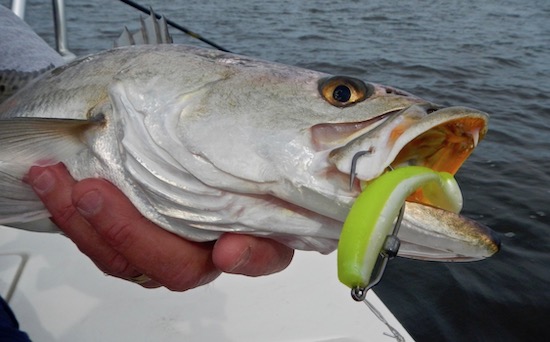 The best trout of the week, on a plastic shad.
Wednesday found me back at the lagoon, still scouting. At the first spot I released four slot reds. NICE! There were more there but not wanting to beat them up I left them and looked elsewhere.
A couple elsewhere spots had nothing. But then I found another batch of fish and got a half dozen or so reds and trout, all slots. Again, I left them so as not to beat them up.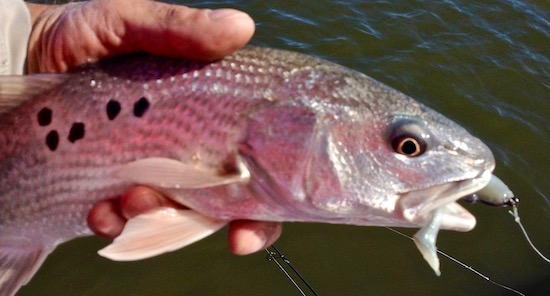 Not the biggest redfish of the day, but the spots!
At the next spot an hour plus was invested. A few dink trout were caught, and four redfish were spotted too late. Then three more slot reds came in quick succession. Then it was time to quit. It had been a very solid day, even though the fly rod was not touched. And, clean water almost everywhere I went.
Thursday Mike Conneen joined me for some near-shore Atlantic exploration. Off Cape Canaveral we got a few dink bluefish and a couple of the smallest pompano I've ever caught. We spent hours looking for tripletail, ending up near the steeple in Cocoa Beach. We saw thousands and thousands of cannonball jellyfish, but only one tripletail. He did not eat our offering.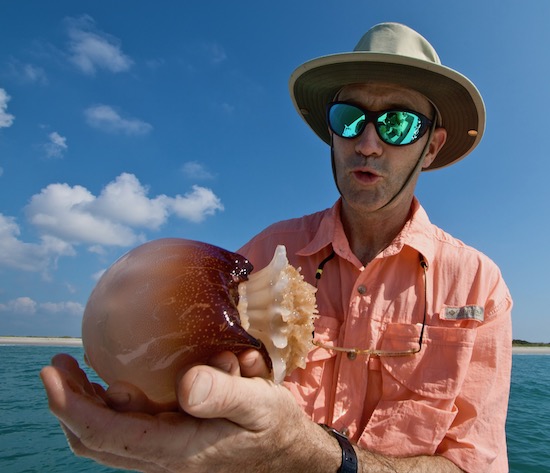 The cannonballs aren't very sporty.
Saturday Marisol and Cheryl joined me for a shad outing on the Econlockhatchee River. Two awesome ladies who love to fish, it's a wonderful thing! The shad were cooperative enough that we got two doubles and lots of singles, releasing a couple dozen, all on little crappie jigs.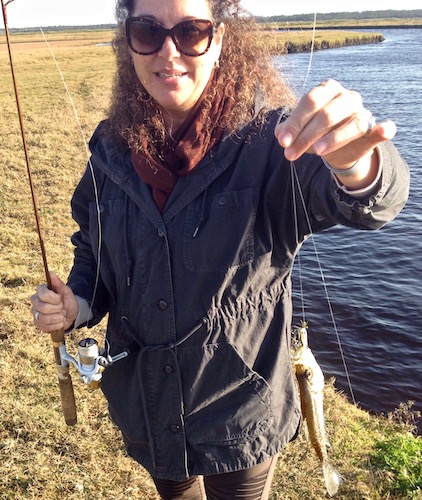 Cheryl got the first fish, a tiny crappie.
Great day, and thank you for fishing with me, Cheryl and Marisol!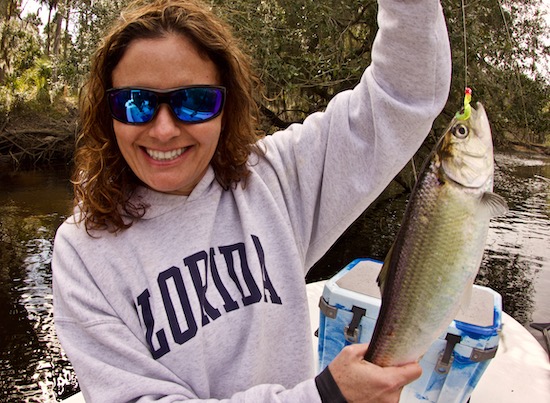 Marisol with one of many shad they got.
I have not heard from the publisher about my latest book. While the suspense is killing me, not hearing is usually a good thing. If you hear right away it's because the work ain't up to snuff. I will try to continue being patient.
That's this week's Central Florida Fishing Report! Thanks for reading!
Life is great and I love my work!
Life is short- Go Fishing!
John Kumiski
www.spottedtail.com