SuperBowl Sunday Fran and Christian Allen, fly fishers from Massachusetts, joined me for a cloudy half day on Mosquito Lagoon. We spooked all the fish off the first spot. We just could not see them.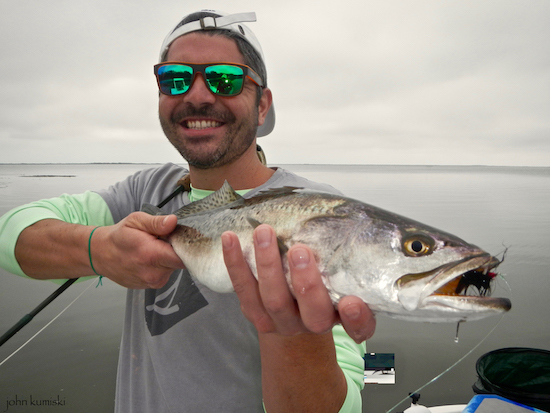 Christian got this fish by casting blindly.
The second spot produced a handful of seatrout, some of which were decent if not huge. Fortunately my anglers did not object to casting blindly.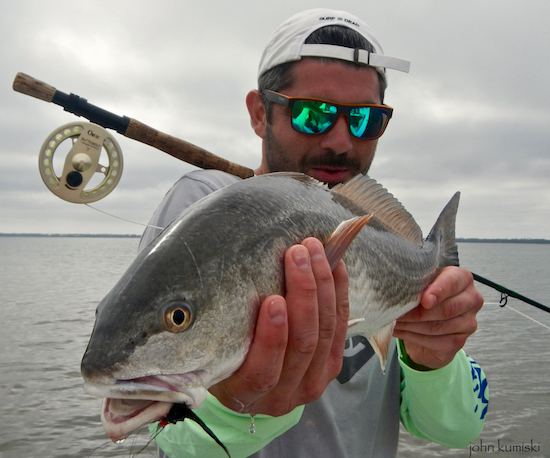 He followed the trout up with this fish.
At the third spot Christian got a bite. His response? "That's not a seatrout!" He was correct, as a 26 inch red had taken the fly. It was a short, sweet trip, and that fish was the culmination.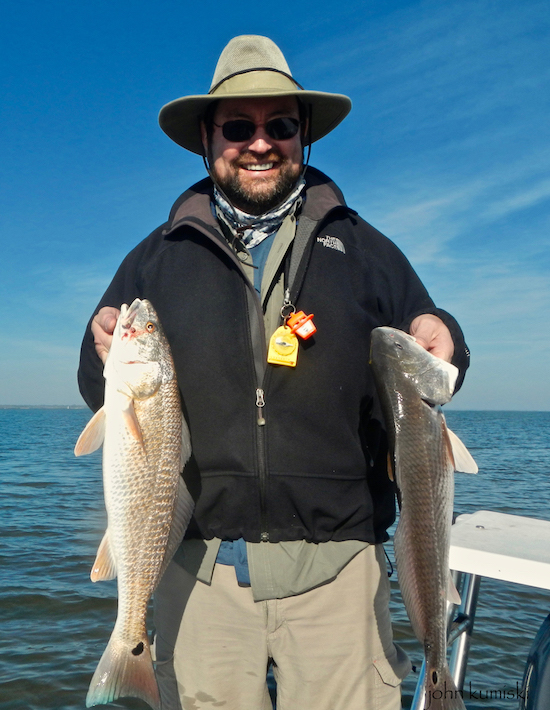 Dave and Dan doubled up. Dan got to pose!
On Monday David Waring and his friends Ryan and Dan, all engineers from the Seattle area, joined me for some Mosquito Lagoon light tackle action. Redfish, seatrout, and black drum, all on either DOA CAL Shad or RipTide Sardines, came into the boat in spurts all day long. Dan posed with a couple of his fish!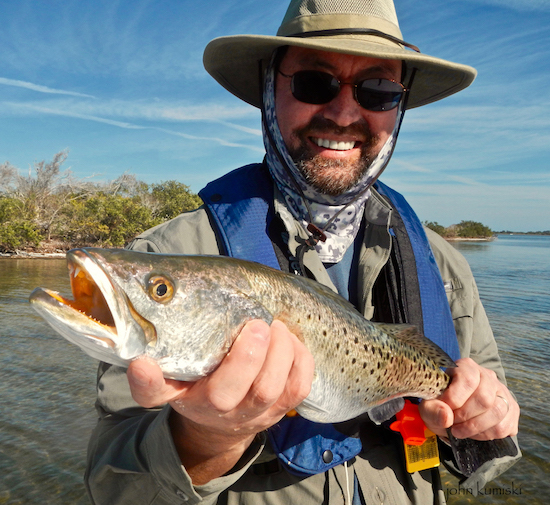 Dan got this nice fish, too.
Tuesday I went scouting out of River Breeze. I did not find fish everywhere I looked, but I certainly found fish. The water is getting really low.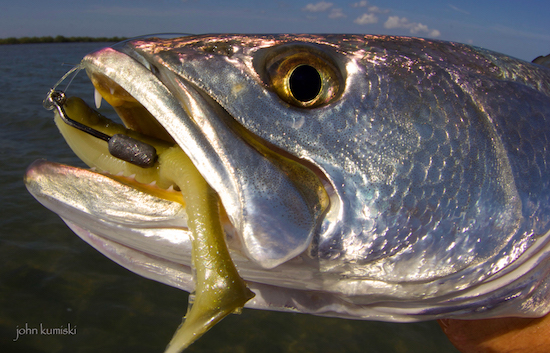 These three inch plastic minnows are deadly.
Wednesday Coloradoan Donald Nunn joined me, again on Mosquito Lagoon. It was the slowest day of the week fishing-wise, but he still got several redfish and a couple nice trout, all on my favorite artificial baits (see above).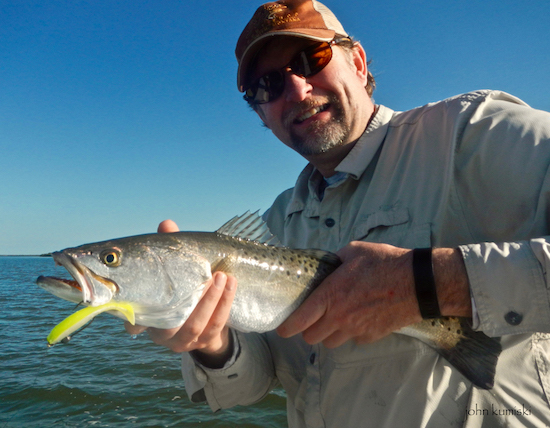 Don Nunn with a respectable seatrout.
Took Thursday off.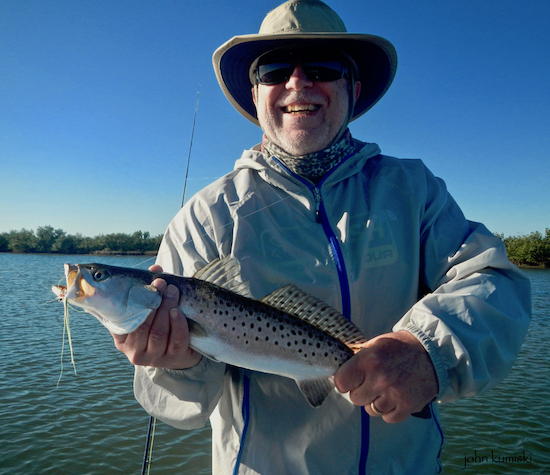 Bill Vail with a nice trout caught on a bouncer fly.
Friday Billy Vail, a fly fisher from South Bend, and Billy Vail, a student in Jacksonville, joined me out of River Breeze. We got trout and reds more or less continuously all day, with the best fish coming on the last cast of the day. The fish was a lovely 27 inch seatrout. If I could script every day that's how it would play out.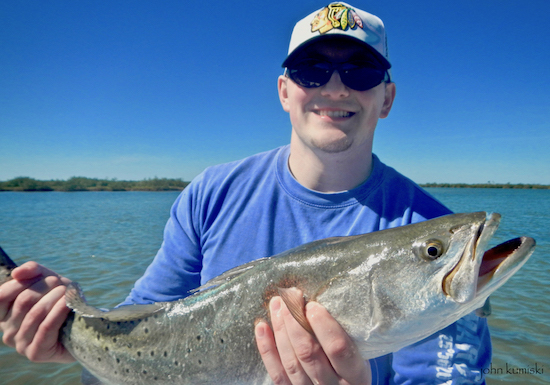 Billy Vail got the fish of the day, though.
On Saturday Mic Lauric and his friend Brian, fly fishers from Atlanta, joined me for a day of kayak fishing out of a busy River Breeze Park. Somewhat inauspiciously I got the first two fish just a few minutes from the launch, a fine trout and a slot red, on a Polar Fibre Minnow. On the rest of the way to the spot I had in mind we saw very little. Even my spot was slow at first- all the fish were at the far end of it.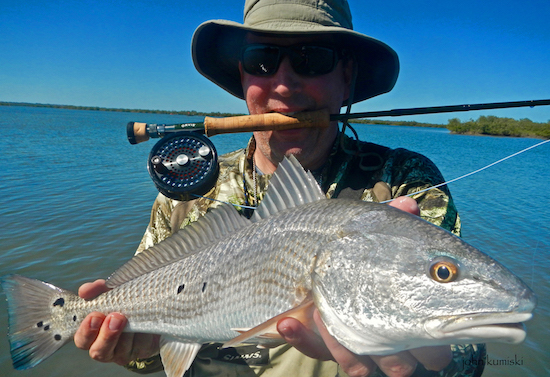 One of the many redfish Mic got.
Without the gruesome details, they had at least three doubles. Mic sent me the following email- "Thank you. Can't wait to do it again. Please send pics when you can. We want to braggggg…"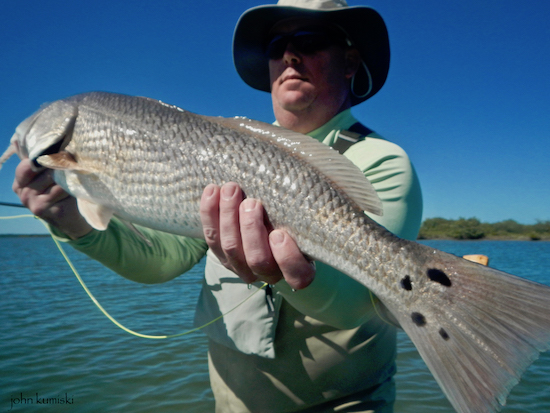 Brian certainly was not to be outdone.
Flies were synthetic minnow imitations. The fish were definitely on the feed. There goes that they don't bite good on the full moon nonsense.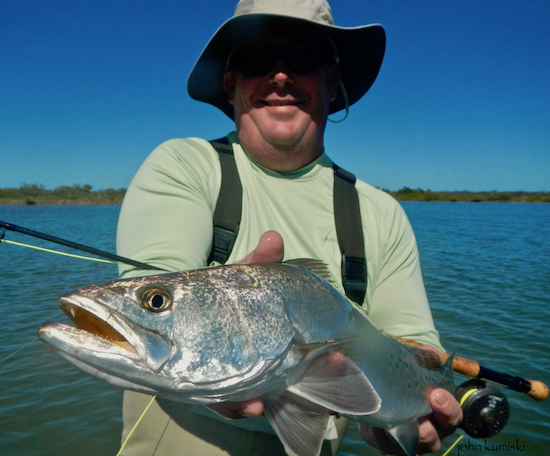 Brian got this beautiful trout, too.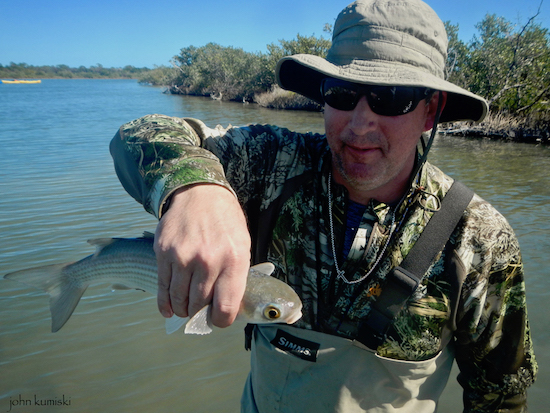 Mic even got the elusive black mullet.
So, that is the still hot Mosquito Lagoon fishing report!
Life is great and I love my work!
Life is short- Go Fishing!
John Kumiski
www.spottedtail.com