Week of the Black Drum Fishing Report
We caught other kinds of fish this week, but black drum were the stars. Thus the black drum fishing report.
Thank You!
Many thanks to all those folks who responded to my question about eastern Tennessee. I got more information than I could handle in a busy week!
Alaska
Mike Adamson shared this link by email- https://www.theatlantic.com/photo/2017/03/150-years-ago-today-the-us-bought-alaska-from-russia-for-72-million/521340/?utm_source=nl-atlantic-weekly-033117 . Definitely worth the few minutes it takes to check it out.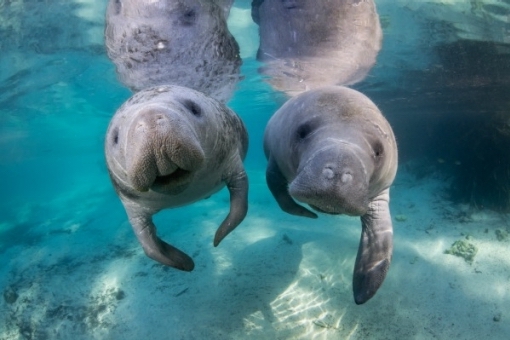 Manatees Delisted
In a move guaranteed to generate controversy, the US Department of the Interior has removed the West Indian manatee from the endangered species list. You can read the entire press release here- http://www.spottedtail.com/blog/manatee-reclassified-from-endangered-to-threatened/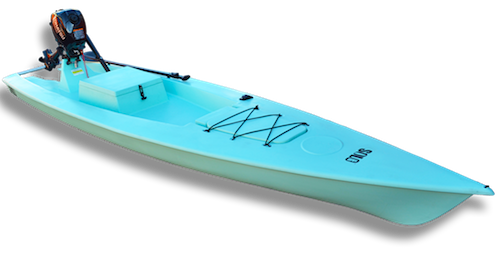 Solo Skiff
Tom Mitzlaff posted a video that has gotten six million views! See it here- https://www.facebook.com/SoloSkiff/videos/1274846345945765/
Fishing!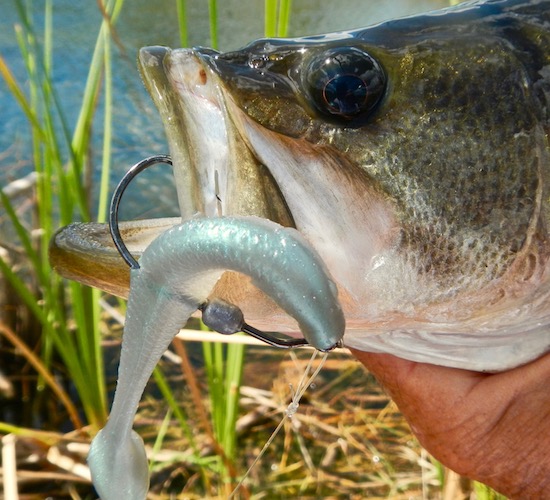 Bass on RipTide.
Sunday I went to a pond in Oviedo and in the howling winds managed to spin fish my way to a handful of bass. The lure was the RipTide Sardine.
No trophies- the best fish of the afternoon.
Monday fly fisherman Jeff Leishman joined me for a fly fishing trip on the Banana River Lagoon. The weather was spectacular, a chamber-of-commerce kind of day.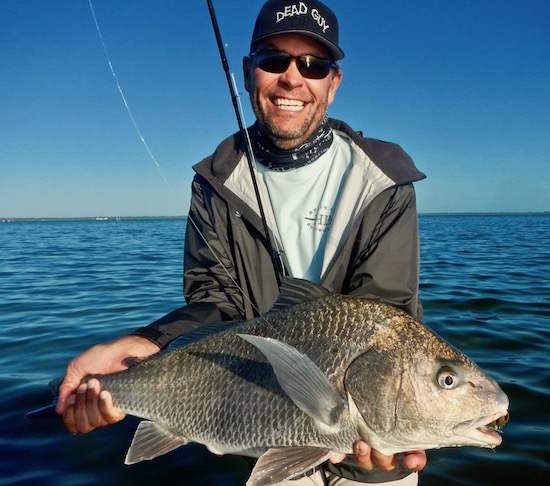 Jeff with one of many black drum.
We weren't out very long when we spotted a tail, and then another, and then the whole place was loaded with tailing fish. Jeff, tossing a crab imitation, did some serious work with those fish. We had five or six double hookups. If only every day were like that…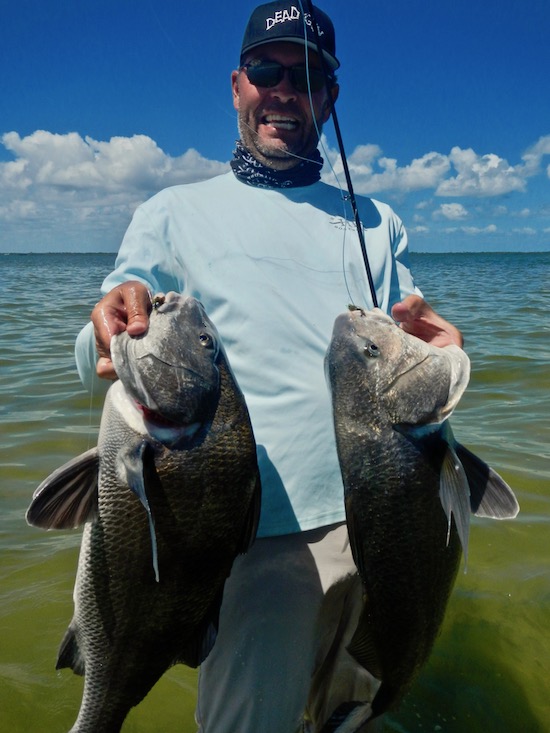 One of our doubles…
Tuesday's kayak fishing trip happened out of River Breeze, with George White and his friend Mike. They were tossing those little shad tails I'm so fond of, and got a mix of seatrout and redfish. The fish made us work, though, no suicidal ones this day. There are long stretches of fishless water out there. And that water is beginning to rise again. It's getting deeper.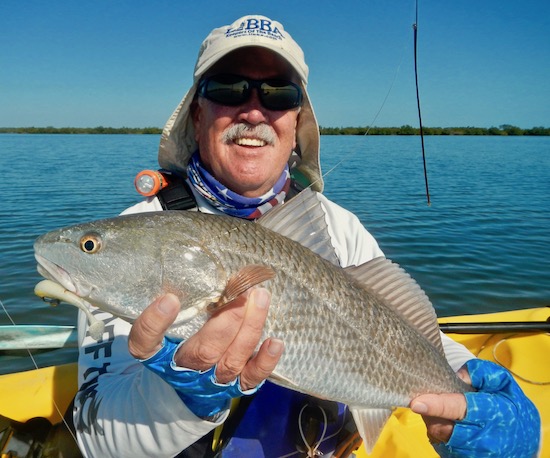 Mike had never caught a redfish before.
Wednesday and Thursday I had the pleasure of hosting Jerry and Alex, a father-son team from the Chicago area, on the Mosquito Lagoon. Alex will be pitching for the Cubs in the World Series in another 15 years or so. But I digress…
Alex got this trout on a DOA Deadly Combo.
Wednesday the weather again was picture-perfect. The fish, however, were incredibly spooky. Redfish wouldn't let us within two cast-lengths away. Since you can only cast one cast-length, we just couldn't get a bite. We got a fair number of trout. All but one were short. We got one redfish, which may have been barely legal. We got a real nice puffer. We got to watch a herd of manatees in clear, shallow water. A beautiful day, kind of tough fishing-wise, though.
Thursday young Alex started us off with a fine 23 inch seatrout he got with a DOA Deadly Combo. BANG! Several more nice trout followed. Then we found a herd of black drum. Double!
More black drum doubles in a black drum fishing report week!
The fish let you know when they've had enough by swimming fast and not biting any more. We took the hint and tried a few other spots, getting another trout or two. We hardly saw any redfish. Yes, it was windy, but visibility was pretty good. I just couldn't find any. We returned to the drum spot. They were still there and we got three more. At that point the wind was blowing close to 20 knots, so we called it a day.
That is the week of the black drum fishing report!
Life is great and I love my work!
Life is short- Go Fishing!
John Kumiski
www.spottedtail.com