Another East Central Florida Fishing Report
Thank you for reading another east central Florida Fishing Report. Kind of fished around this week, and none too seriously at that.
Monday– in spite of 20 mph winds and 60 percent rain chance I went kayaking on Mosquito Lagoon. I saw exactly one redfish while wading, put the slider three feet in front of it. The fish crushed the fly and I got it. Unbelievable, with the dirty water and in that weather.
Tuesday– stayed home, tied some flies and listened to Count Basie, Stan Kenton, Mose Allison, and Jethro Tull. Good times.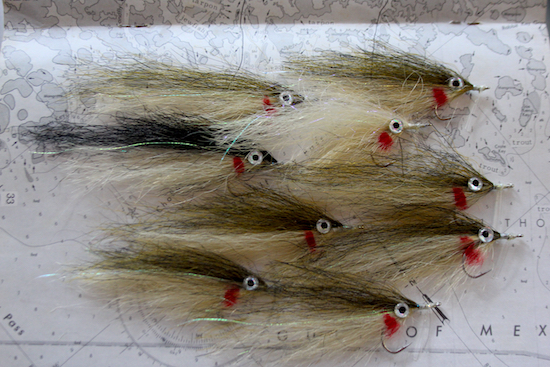 I made a flock of faux fishies.
Wednesday– beach day with Susan. Brought a cheap rod and reel I found along the Econ, a sand spike, and some shrimp. When the wind is from the southeast you get the Miami mud and terrible fishing. My first bite didn't take long, and it was memorable- with a double hook rig, two (at once!) hardhead cats. After releasing the sixth one I gave up. I just sat and watched the waves and the birds. Nice morning!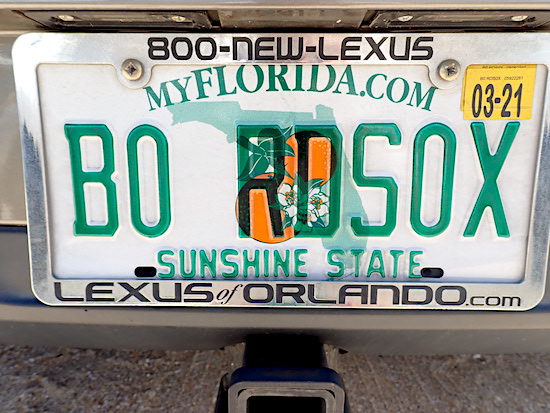 License tag of a car parked at the beach. But the Red Sox are terrible this year.
Thursday– Susan wanted to go for a boat ride, so we hooked the Mitzi up to the car and went to Mosquito Lagoon. Figured I may as well look for fish at the same time. HA! The joke was on me.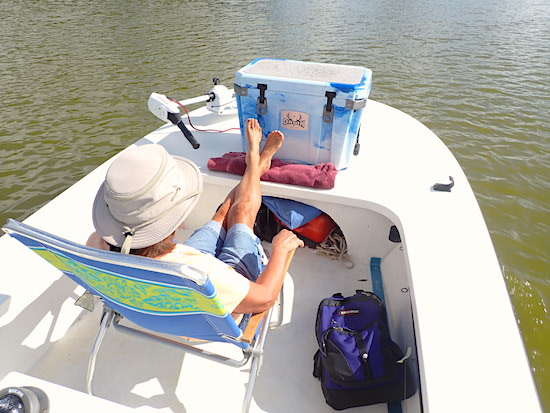 Susan takes her boat rides seriously.
The Indian River and Mosquito Lagoon are both in full algae bloom mode. The water is brown, opaque, disgusting, heart-breaking. We rode around for two hours. The best water I saw was green instead of brown. You certainly get a different perspective in the skiff versus the kayak. Every time the algae blooms (every summer for the past six or seven years) I wonder if the water will ever clear up again. One of these times it won't, I fear.
Friday– joined Walt Sheppard for a Spruce Creek kayak trip. Armed with a six-weight, I sallied forth to do battle with whatever Leviathan I could find.
I missed my first four bites. Guess I wasn't ready. The third, fourth, and fifth bites were a baby tarpon. The hook stuck in number five. I was able to leader the little guy before he hopped off. Fly was a small bucktail streamer.
John with a baby tarpon. File photo by Tammy Wilson.
I did not get another bite, but did have to drag my boat a ways. I followed a six-inch long mantis shrimp, which I apparently spooked, about 20 feet. Those things look like they would be mighty tasty. Very graceful, beautiful creatures they are.
A Poem
We, this people, on this small and drifting planet
Whose hands can strike with such abandon
That in a twinkling, life is sapped from the living
Yet those same hands can touch with such healing, irresistible tenderness
That the haughty neck is happy to bow
And the proud back is glad to bend
Out of such chaos, of such contradiction
We learn that we are neither devils nor divines
– Maya Angelou
Life is great and I love my apparent retirement!
Every day is a blessing. Don't waste it- Go Fishing!
John Kumiski, author of Fishing Florida by Paddle- An Angler's Guide
Purchase Fishing Florida by Paddle- An Angler's Guide at http://www.spottedtail.com/fishing-florida-by-paddle/
Latest posts by John Kumiski
(see all)