Thanksgiving Florida Keys Fishing Report
November 23, 2016 by john kumiski · Leave a Comment (Edit)

Thanksgiving Florida Keys Fishing Report
This is a Thanksgiving Florida Keys Fishing Report, 11/23/16. I wish all of my readers the happiest of Thanksgivings.
Friday last week son Alex and I hitched up the Mitzi to the Sienna and pointed that baby south. Our destination? Little Torch Key. Son Maxx has temporary duty there.
Friday evening we hooked up with Capt. Mike Gorton  (owner of Alaska's Goodnews River Lodge) at the Tiki Bar on Sugarloaf Key. Some reminiscing went on over a couple of malted beverages, as well as some discussion of water quality problems throughout the state of Florida. He may have given us some advice on where to fish, too. Mike, it was great seeing you!!
Saturday we went riding in the Mitzi, searching for denizens of the shallows. Due to my impeccable sense of timing, not one but two cold fronts had come in back-to-back, dropping the water temperature over 12 degrees and chasing most fish off the flats. We found a variety of little fishies, and some juvenile tarpon (five bites on DOA CAL shad and not a single fish boated), as well as some sharks and barracudas (could not get any big 'cudas to bite).
The weather, although breezy and a little chilly, was outstanding. We did not get stuck or break anything and did not need the first aid kit. So from a fishing standpoint it may not have been wildly successful, but it was a beautiful day out on the water.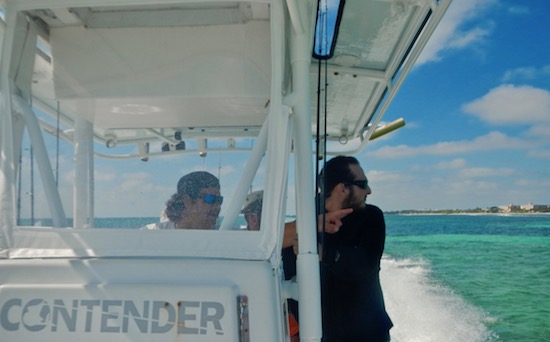 Heading out to the reefs, Key West behind us.
Sunday at 11 AM found us at Hurricane Hole Marina, where we met Capt. Jack Walker. We ended up fishing over some patch reefs off of Key West, for snapper, grouper, and a variety of other fish. Action was pretty steady, although all the biggest fish just put us into the rocks. Again, it was cool, windy, and wavey, but we had an outstanding day. Thank you Capt. Jack! Great seeing you, too!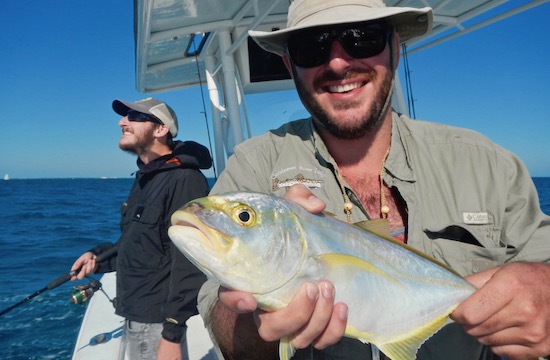 Maxx with one of several bar jacks we got.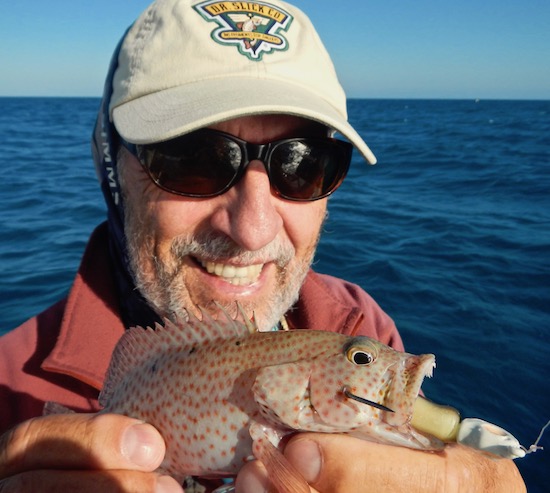 I got this outstanding grouper! Poor little fish!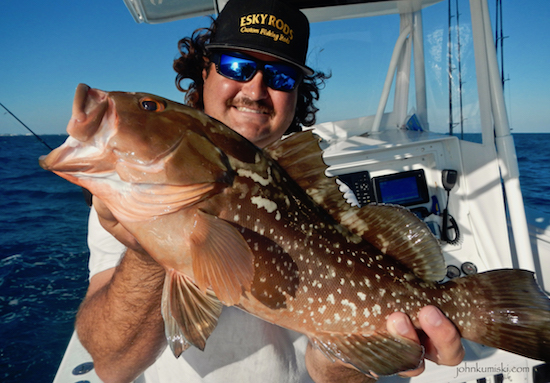 Jack, having done this before, outfished us.
Monday we decided not to take Mike's advice and instead went oceanside along Big Pine Key. First we fished a few patch reefs. Alex hooked a couple fish, lost one in the rocks, and caught a just-short grouper. Then I poled the boat for miles.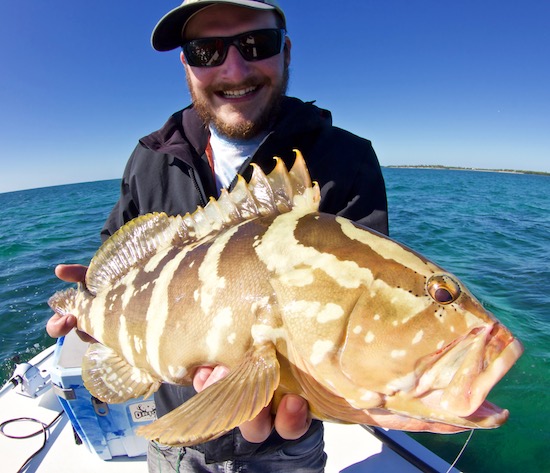 Alex got this beauty from a patch reef.
We saw exactly two bonefish but did not get a shot at either. We got numerous barracuditas and some needlefish, hooked a shark, and that was about it. Still windy, still cool, still a gorgeous day on the water, but not terribly fishy.
Early Tuesday we loaded the boat onto the trailer and negotiated the wilds of the south Florida highway system back to beautiful Chuluota.
—————————————————-
FOR SALE
Still trying to find a good home for my old EZ Loader Trailer- http://orlando.craigslist.org/bpo/5764303987.html
—————————————————-
And that is the Thanksgiving Florida Keys Fishing Report! And again, happy Thanksgiving!
Life is great and I love my work!
Life is short- Go Fishing!
John Kumiski
www.spottedtail.com