Still Still Hot Mosquito Lagoon Fishing Report
This week was not better than last week. But it was still pretty darned good! Thus the still still hot Mosquito Lagoon fishing report.
Upcoming Events-
– On-The-Water Mosquito Lagoon Show and Tell Fishing Seminar March 4. Click this linkfor more information…
– River Breeze Paddling Show and Tell Seminar, March 5. Click this link for more information!
Steve Duckett asked me to get some pictures of his Bouncer Flies. So Monday, in spite of the winds and clouds, I went kayak fishing out of Oak Hill. This slob trout was my first bite. It hit like a freight train and went about 40 feet into my backing-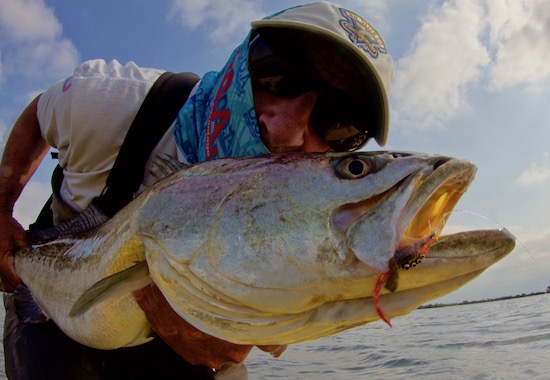 I got other fish after that, but who cared?
Tuesday I visited the St. Johns River, trying to get a nice bass on Duckett's Bouncer Frog. Two small crappie on Electric Sushi, no bass, no photo.
Thirty mile an hour winds on Wednesday kept me off the water.
Thursday I ended up scouting by myself on Mosquito Lagoon. I had limited time, so I visited spots that had been holding fish (they still were) and a couple places I hadn't checked in a while (they were not). Three beautiful seatrout and one redfish were caught and released.
Friday Brian Hussey and his son, the tastefully named Alex, joined me for some light tackle Mosquito Lagoon fishing. For starters we had to get out and push because of the shallow water. Then at the first fishing spot we chased all the fish away without getting one. Then spots 2, 3, and 4 had had a fish evacuation, apparently. Nothing at any of them but two smallish trout. A boat ride ensued.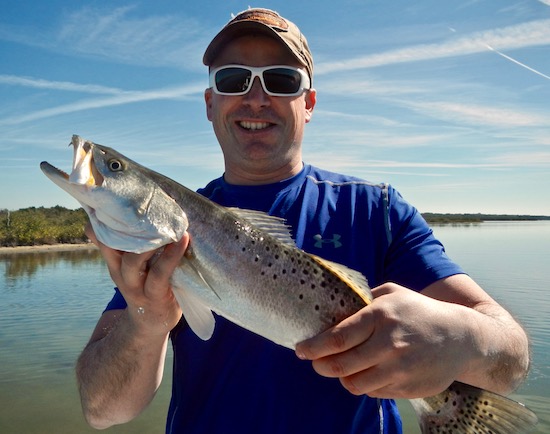 Maine's Brian Hussey with a nice Mosquito Lagoon seatrout.
Thank God for spot 5. Nice trout, lots of reds, they weren't eating very good but we managed to get several of each on the 3″ plastic minnows. So we started slow and ended strong, always a good script.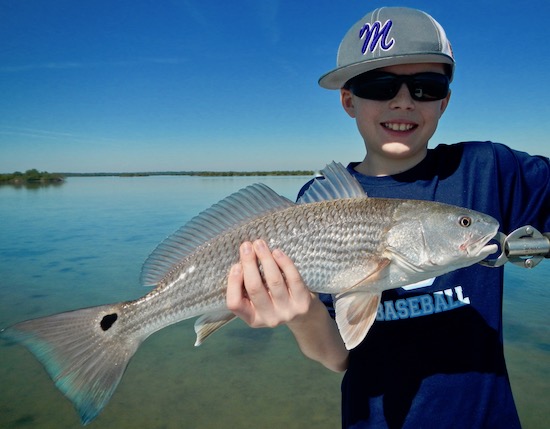 Not to be outdone, Hussey the Younger with a redfish.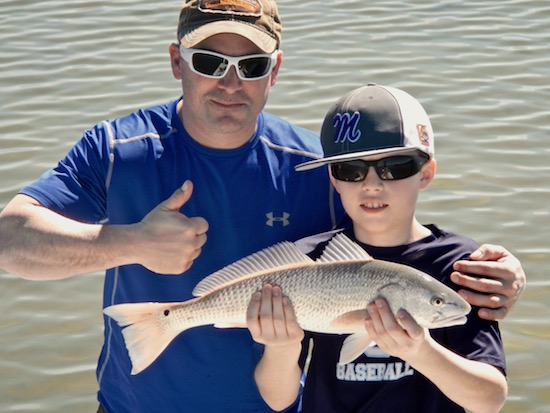 And the Husseys together with another redfish!
And that is the still still hot Mosquito Lagoon fishing report!
Life is great and I love my work!
Life is short- Go Fishing!
John Kumiski
www.spottedtail.com