Covered bridge spanning Swift River.
White Mountains Report and Photo Essay
Susan and I travelled to the White Mountains of New Hampshire to catch the fall color. We have an unusual White Mountains report. Not any fish, but lots of colorful photos!
Cannon Mountain in Franconia Notch.
Richie (Susan's brother) and I went fishing on the Concord River Sunday morning. I have had wonderful days there in the past. This wasn't one of them. We hit it for three hours. We did not see a fish, get a bite, or see any fish-eating birds other than a single blue heron. We were off the water by noon.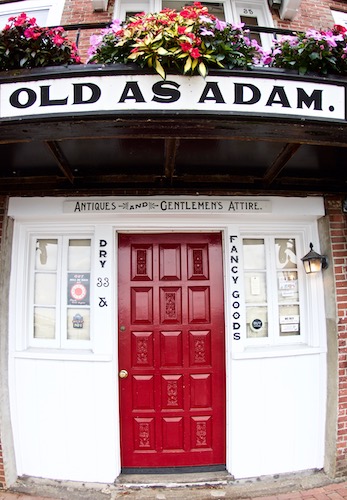 Storefront in Portsmouth.
Monday we went to Portsmouth, NH. It's touristy but really well done. Flowers and colorful plants everywhere, nice shops, nice restaurants, lots of history with shipbuilding and whaling, whale watching if you want, worth the trip if you're near there.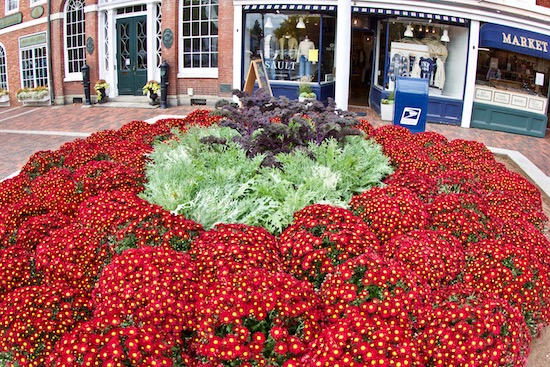 On the main street in Portsmouth.
Tuesday Susan and I drove to Lincoln and went for a 7 mile hike on the Wilderness Trail, going as far as Franconia Falls. It was like walking through a kaleidoscope! Multi-colored leaves thick on the ground. Multi-colored leaves thick on the trees. Vivid colors, greens, browns, reds, golds, yellows, oranges, incredible.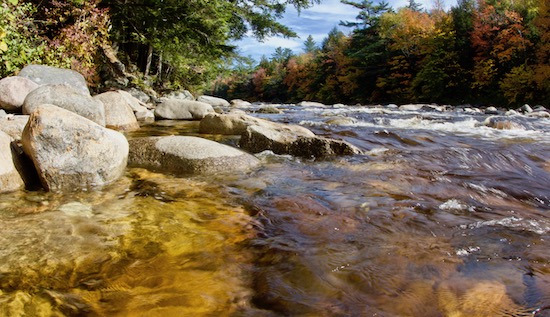 East branch of the Pemigewasset River.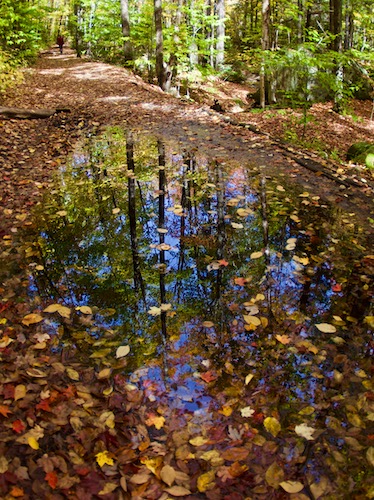 It was like walking through a kaleidoscope.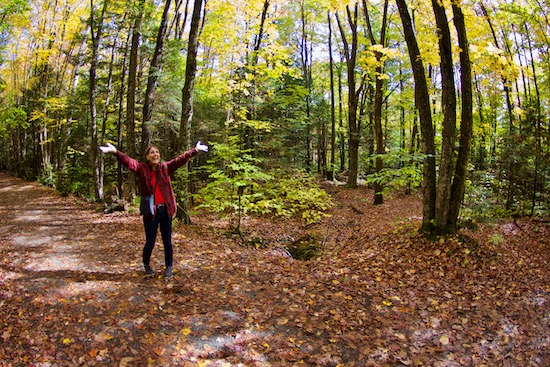 Susan enjoys the walk in the woods.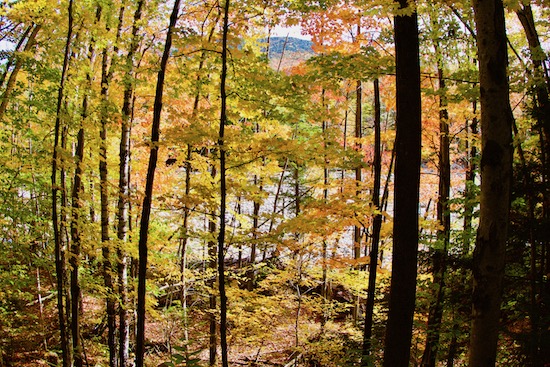 Incredible color surrounded us.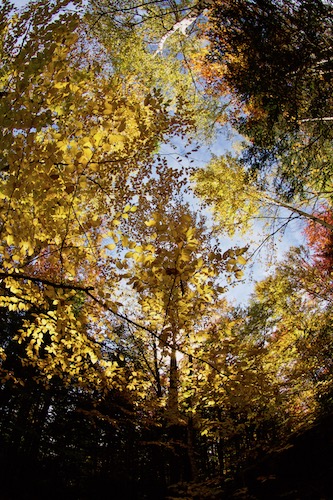 Wednesday we went to Bald Mountain and Artist's Bluff, taking another hike. From the top of Bald Mountain we had a clear view of Mount Lafayette. The air sat still, the sun shone warmly. We loafed on the mountaintop enjoying the view, the weather, and each other's company.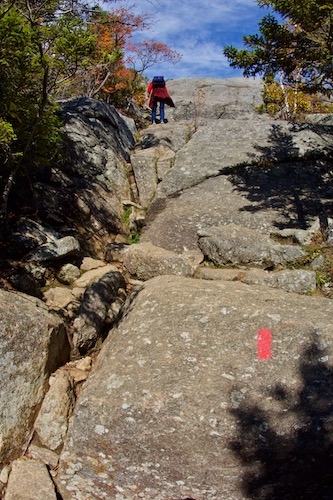 On the way up!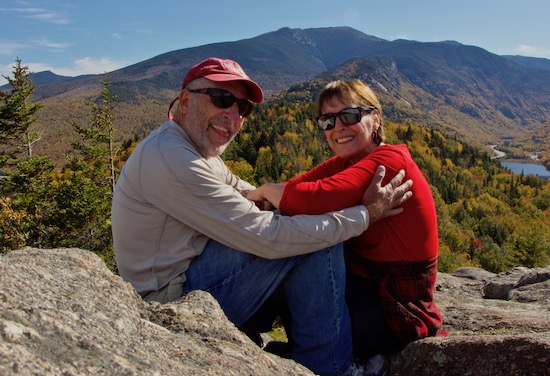 On the summit of Bald Mountain. Mount Lafayete dominates the horizon.
Folks take their hiking seriously in these parts.
When we finally hiked back to the car we drove to Bethlehem, where we had a fantastic dinner at the Cold Mountain Café. We dined in Bethlehem! It was a fantastic day.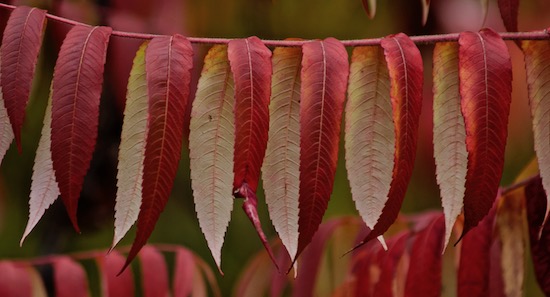 Sumac leaves get ready for winter.
Thursday morning we got up early by vacation standards. There was frost on the car. We drove to Littleton, where breakfast was supplied by the Crumb Bar. If you are in this part of the world that is a must stop.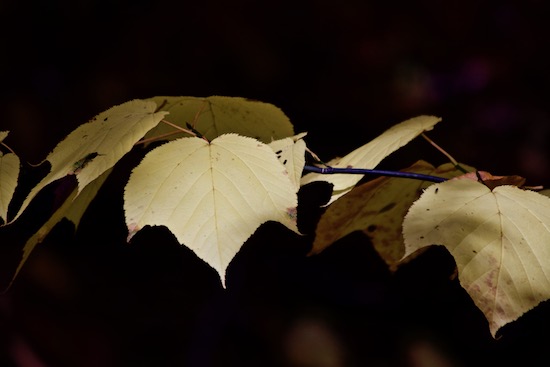 Striped maple leaves along the trail.
We then drove through Crawford Notch, stopping at the base of Mount Willard. Forty degrees at the start of this mile and a half ascent. It was cloudy and the wind was blowing. So we did not lounge around on the summit for hours! The views down Crawford Notch, of the southern Presidential Range, and Mount Willey, were tremendous, though.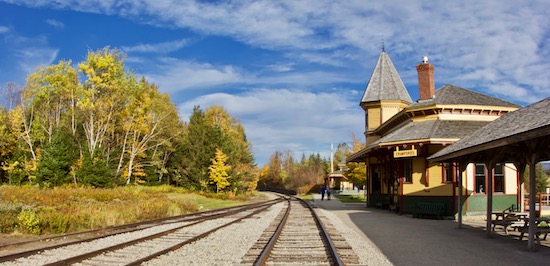 Railroad station at the Mount Willard trailhead.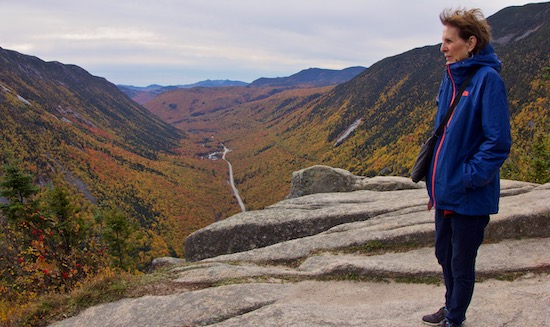 The view down Crawford Notch. Webster Cliffs off to left.
We poked our way back, taking the Kancamagus Highway, enjoying every minute of the drive, until we hit the interstate. New Hampshire portion of vacation over.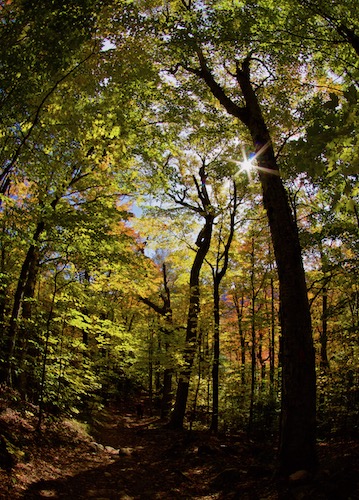 Surf casting with fly rod at Winthrop Beach was on the agenda for Friday evening/Saturday morning. A northeaster that produced 40 plus MPH winds and 10 foot waves put the kabosh on that plan.
On October 28 Fishing Florida by Paddle will be available. Click this link for more information!
That's this week's White Mountains Report. Thanks for reading!
Life is great and I love my work!
Life is short- Go Fishing!
John Kumiski
www.spottedtail.com