June Bug Orlando Fishing Report
During my morning trips to the petrol station the June bugs have been thick. So we have a June bug Orlando fishing report, covering the Mosquito Lagoon and St. Johns River.
Tuesday
Spotted Tail was host to the Warings- Chris (grandpa), David (dad) and Alexander (son). The trout bite in Mosquito Lagoon continued strong, and a redfish managed to crash the party. There were a couple ladyfish, too. As one might expect by this point, the baits were soft plastic minnow imitations, the DOA CAL shad and the Riptide Sardine.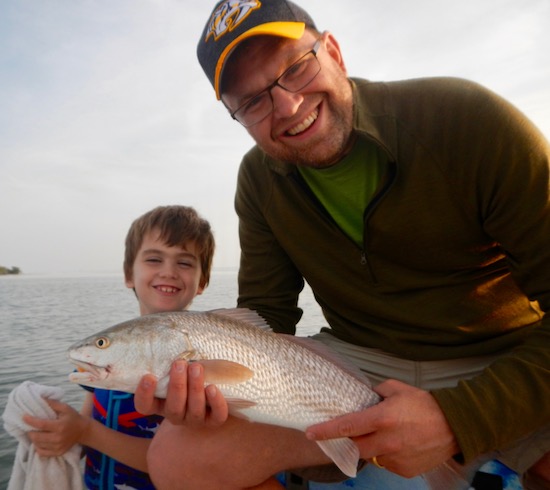 The Warings caught some fish.
Wednesday
Rodney Smith and I went to the St. Johns River to fly fish before the summer rains kick in too strong and raise the water level. Rodney had the channel cats' number, getting three and a tilapia too, all on an egg-sucking bunny leech. John did not do as well, and overall he thought the bite had slowed from previous visits.
Thursday
Scott Radloff and I tried to fish out of Port Canaveral. Pass the jetties, turn around, return to the boat ramp. We got to Mosquito Lagoon at almost 10 AM. The fish punished us for the late start- one dink trout and one 19 inch redfish was all we could muster in three hours. Weather forced us to leave.
Friday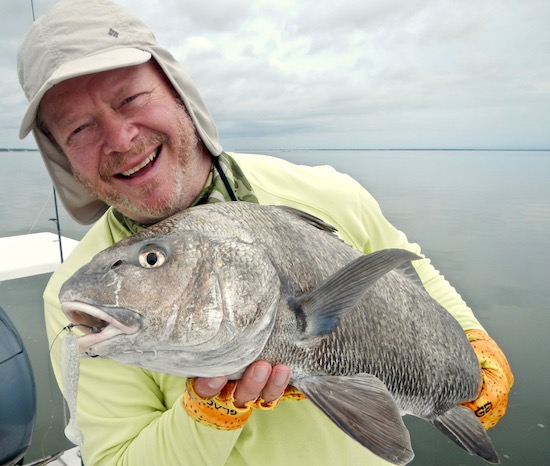 George convinced this drum to strike a fraud.
George Allen joined me for some Mosquito Lagoon fishing. The trout bite was better than the previous day's non-bite, but it had slowed compared to from Tuesday. We spotted what I thought were redfish. They were black drum. George got one on a DOA CAL shad, nice fish it was, too. Weather forced us to leave.
The summer rains are kicking into gear.
As always, I would like to thank everyone who fished with me this week.
That is the Orlando fishing report!
Life is great and I love my work!
Life is short- Go Fishing!
John Kumiski
www.spottedtail.com