With a seared exterior and soft, tender interior, scallops have a mild flavor that complement a rich, buttery wine sauce. There are a few insider tricks to ensuring that scallops come out crispy on the outside yet tender on the inside. First, preheat the skillet, so it is nice and hot before adding the scallops. This speeds up the cooking time to create a sear rather than simply steaming the scallops.
Second, be sure to add salt and pepper the scallops only just before throwing them in the pan. Salt draws out the moisture, but the scallops will steam if salted and left out for too long. And last — but not least — as soon as the scallops hit the pan, do not touch them or move them around with tongs. When you're finished cooking the scallops, don't overlook the fond(crispy pieces stuck to the bottom of the pan). That's concentrated flavor right there, so don't throw it all away! Instead, I recommend deglazing the pan with wine to make a speedy sauce. In addition to boosting the flavor of sauces, deglazing a pan also reduces cleaning time. So stop furiously scrubbing your pans at the end of the night, and start deglazing!
This particular scallop recipe goes with just about any starch. Stir in whatever leftover herbs you have, spoon over extra sauce, and let the starch soak up the gloriously buttery, herby flavors.
From Anna Monette Roberts, POPSUGAR Food
Seared Scallops in White Wine Butter Sauce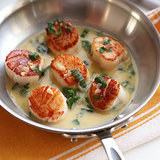 INGREDIENTS
5-6 large scallops
Cooking spray
1/3 cup white wine
1 tablespoon minced white onion
3 tablespoons chilled butter
1 1/2 tablespoons chopped fresh parsley
1 1/2 tablespoons chopped fresh green onion
Salt and pepper, to taste
DIRECTIONS
Place a skillet over medium-high heat until thoroughly heated. Coat scallops with cooking spray, and then salt and pepper right before placing on skillet. Carefully place scallops in hot skillet. Sear 3-5 minutes or until browned, flip sides, and cook another 2-3 minutes. Remove scallops from pan, and keep them warm in an oven at 150-175ºF.
In same pan, add wine to

 

deglaze

 

the pan, or use a wooden spoon to scrape the brown bits from the pan. Add onion, and bring wine to a boil. Boil for 5 minutes or until liquid reduces to 2 tablespoons. Over low heat, whisk in butter cubes, 1 tablespoon at a time, until fully incorporated. Stir in parsley and green onion. Salt and pepper to taste. Serve scallops with sauce.
http://www.cookinglight.com/food/recipe-finder/cooking-with-scallops
Healthy Ways to Cook with Scallops
All scallops, whether farmed or wild-caught, are great sustainable seafood options. But for the best choice, pick diver-caught scallops from Mexico.
A screaming-hot skillet and baking sheet yield fantastic seared scallops and quick-roasted tomatoes and veggies. The luxurious sauce is little more than butter emulsified into reduced white wine—keep the butter cold and whisk it in gradually for the creamiest sauce.
Preparation
1. Place a jelly-roll pan in oven. Preheat oven to 500° (leave pan in oven as it preheats).
2. Combine wine and shallots in a small saucepan; bring to a boil. Cook 6 minutes or until mixture is reduced to 2 tablespoons. Strain through a sieve into a bowl; discard solids. Return mixture to pan. Gradually add butter, stirring with a whisk until smooth and emulsified. Stir in rind and 1/8 teaspoon salt; keep warm.
3. Cut zucchini and yellow squash in half lengthwise. Cut each half crosswise into 3 pieces; cut each piece lengthwise into 4 strips. Combine zucchini, squash, bell pepper, onion, and 1 tablespoon oil in a large bowl; toss to coat. Arrange vegetable mixture carefully onto preheated jelly-roll pan. Bake at 500° for 3 minutes. Add tomatoes and garlic; toss gently. Bake at 500° for 4 minutes or until vegetables are lightly browned. Remove from oven; sprinkle with 1/4 teaspoon salt and 1/4 teaspoon black pepper.
4. While vegetables cook, heat a large cast-iron skillet over high heat. Pat scallops dry with paper towels; sprinkle evenly with remaining 1/4 teaspoon salt and 1/4 teaspoon black pepper. Add remaining 1 tablespoon oil to pan; swirl to coat. Add scallops to pan; cook 1 1/2 minutes on each side or until scallops are seared and desired degree of doneness. Serve scallops with vegetable mixture and sauce; garnish with basil leaves.
Ingredients
3 tablespoons
chilled butter, cut into small pieces
1/2 teaspoon
grated lemon rind
5/8 teaspoon
kosher salt, divided
1

 
orange bell pepper, cut into 1-inch pieces
1

 
small red onion, cut into wedges
2 tablespoons
olive oil, divided
3

 
garlic cloves, thinly sliced
1/2 teaspoon
black pepper, divided
1 1/2 pounds
sea scallops
1/4 cup
small basil leaves
Yield:
Serves 4 (serving size: about 4 ounces scallops, about 1 cup vegetables, and about 1 tablespoon sauce)