Belated Space Coast and Forgotten Coast Fishing Report
This is a belated space coast and forgotten coast fishing report.
Once again, the observant among you probably noticed I skipped the report last week. Bad John! In my defense, I packed Friday, worked and finished packing Saturday, and went out of town Sunday morning (see below). A weak and puny mortal, I need sleep. Otherwise, I could have gotten last week's report done.
Bumper Sticker of the Week-

Last Week, on Monday I worked a two canoe charter in the Banana River Lagoon with Tom Vanhorn. Our fishermen, father and son, were Mike and Mike!
The water is borderline gross but we caught quite a few solid trout. Mike got the fish of the day on a jig, a lovely snook of seven or eight pounds, on a jig. Go, baby!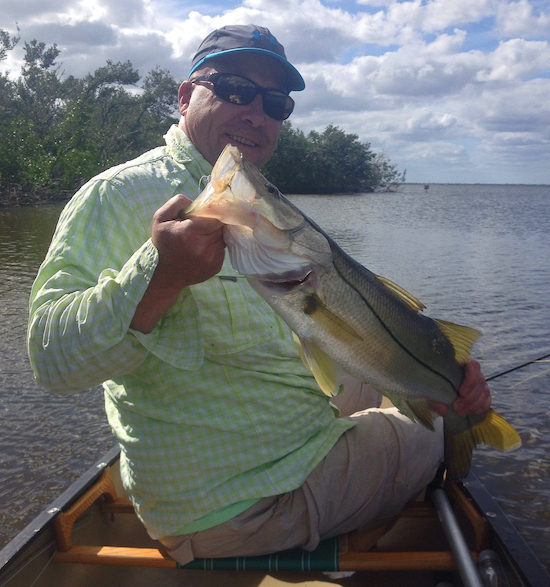 Mike the son with a beautiful snook.
Tuesday Tom and I had Mike and Mike again, out of River Breeze. We searched a lot of water and did not see much, catching a total of two redfish and one trout, a tough day. And, we got dumped on bigtime when a front came through. Mike got the fish of the day with a fine redfish that took a plastic shad imitation.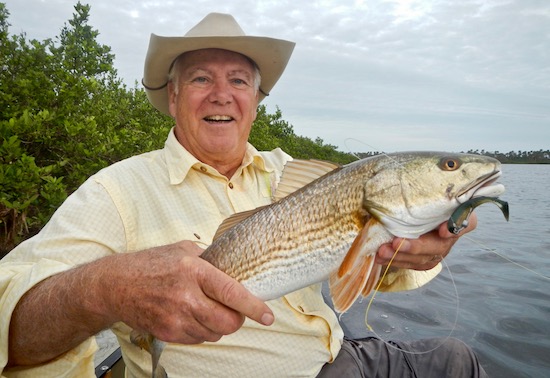 Mike the dad with a handsome redfish!
A word about the shad imitations- for years I used the three inch CAL shad made by DOA. Last spring Damon Albers at RipTide sent me his shad, the three inch RipTide Sardine. I have been using them interchangeably, and love both of them. They are some fish-catching lures! So I don't confuse myself I will just write "shad" whenever using either of them.
Wednesday Mike Briola and I went out into Mosquito Lagoon looking for a Thanksgiving redfish. He had one on, but it came unbuttoned. So we had to settle for a turkey and barbecued pork shoulder for Thanksgiving dinner. Poor us!
Saturday long-time friend Dr. Todd Preuss and I went searching Mosquito Lagoon for some fish suicidal enough to take a fly. A couple trout is all we found! We saw a few redfish and a few black drum, but they just laughed at us.
Sunday morning at 0-dark-thirty Mike Conneen showed up in his black truck. We loaded my kayak on top of his, tossed my baggage in, and off we went to St. Joseph State Park.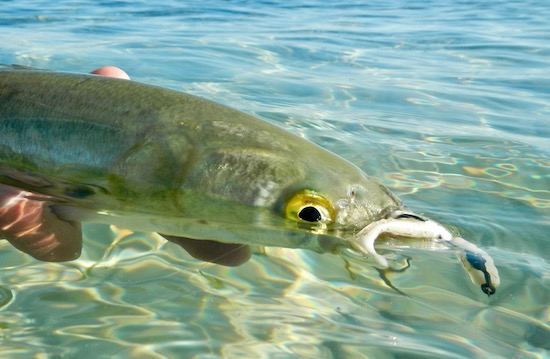 A St. Joe bay bluefish, fooled with a shad.
I had not fished St. Joe Bay in about 20 years. Remarkably, it was just like I remembered it- crystal clear water, thick, lush grass, and fish you can (and cannot) see. Sight-fishing flounders is difficult unless you're spotlighting them at night!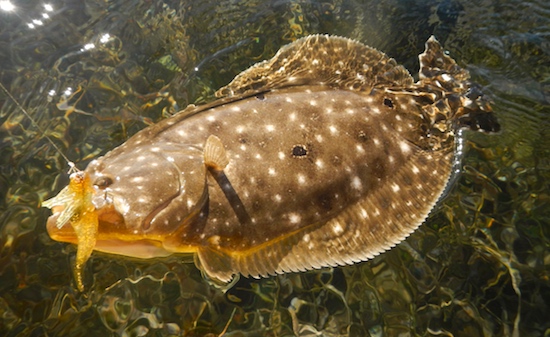 This fatty flattie nailed a DOA Shrimp.
In two days of fishing the bay we caught trout, redfish, flounder, lizardfish, bluefish, and ladyfish. It was so nice fishing in such clear water, so full of life!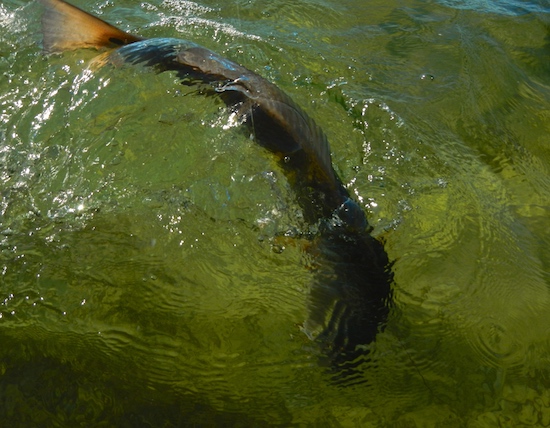 A battling redfish, St. Joe Bay.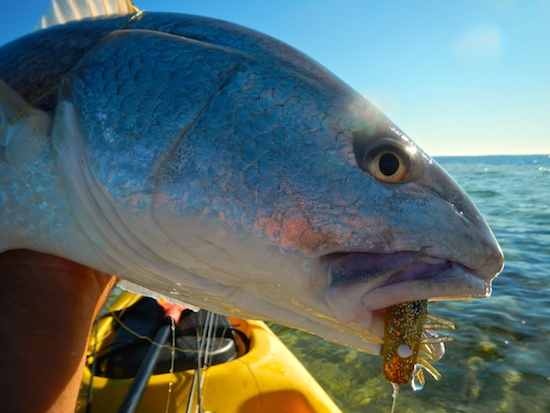 The red lost the fight, but was released anyway. We released every fish we caught.
In spite of that, after two nights at St. Joe we went to St. George Island State Park.  We fished in St. George Sound for three days. The water was slightly less clear, and loaded with oyster beds.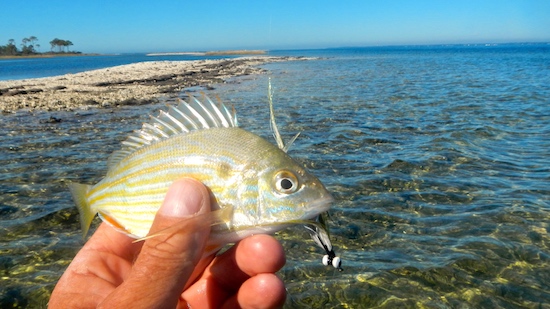 St. George Sound was loaded with oyster beds. The pinfish were a bonus…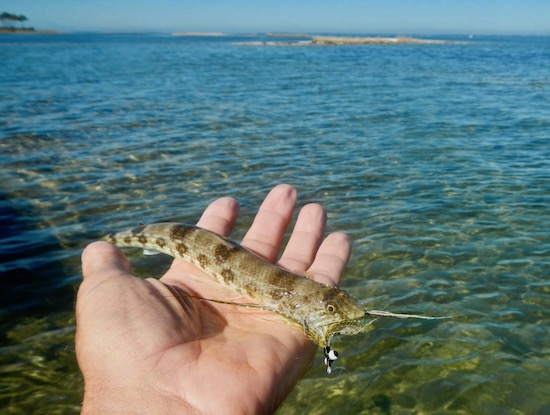 …as were the lizardfish. On fly, though!
I got six species of fish on fly (Clouser minnow exclusively). Surprising to me, I could not get a bluefish, even though I was getting them on the spin rod (with the shad, some on just a hook, some on a jig head). The trout fishing was almost too easy.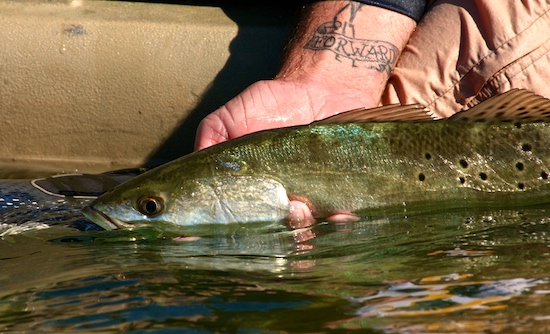 The trout fishing was outstanding.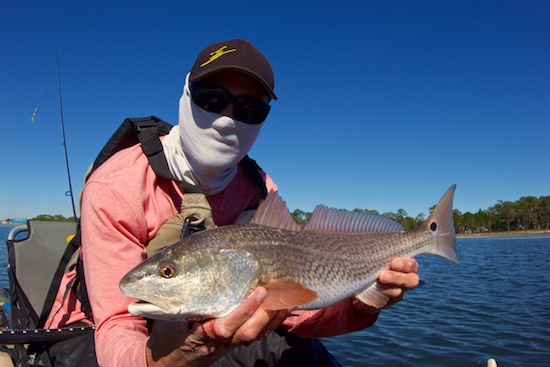 Redfish were involved.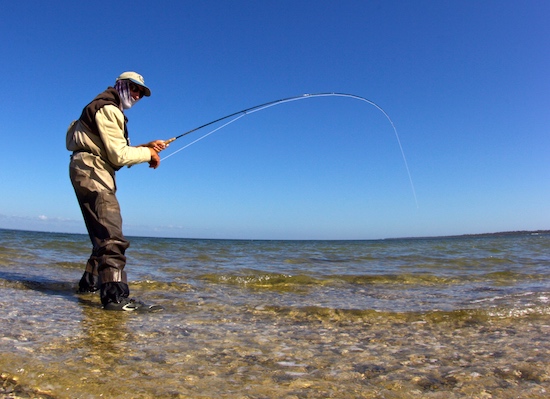 The fly worked well, sight fishing. Awesome stuff.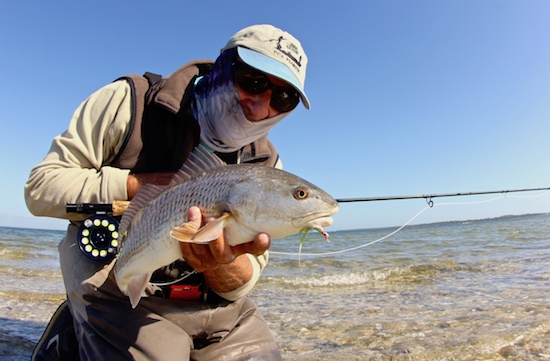 A Clouser Minnow was all I used.
Both parks were beautiful, although the RVs are a bit much to my taste. We ate out one night at the Pesky Pelican https://www.facebook.com/Peskypelicanep/, and although pelicans aren't on the menu there, both the oysters and the grouper sandwich were excellent. The brownies were too!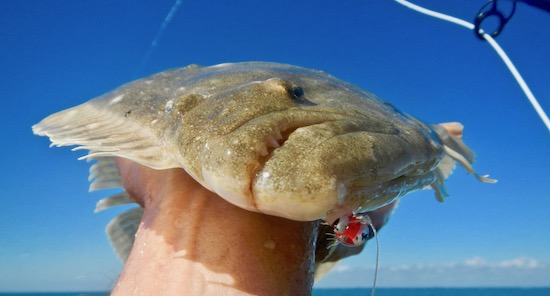 The Clouser Minow fooled flounder…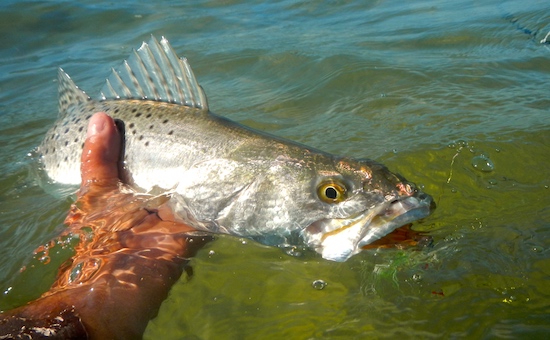 …seatrout…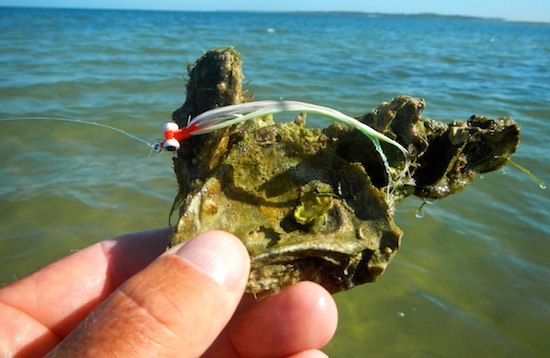 …and snagged a few oysters!
We lucked into awesome weather and very solid fishing. I always enjoy the time I spend with Mike Conneen. Not only is he an outstanding angler, he is an outstanding human being. I had, and I hope he had, a fantastic trip.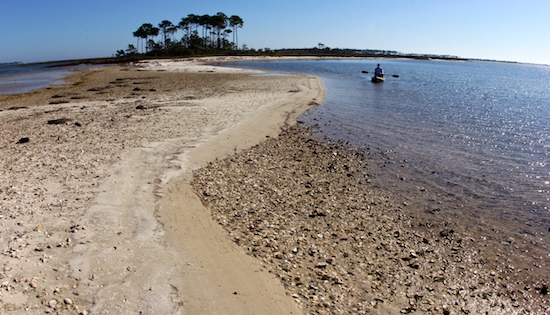 Mike paddles along a St. George Island shoreline.
And that, dear reader, is the belated Space Coast and forgotten coast fishing report. Thanks for reading!
Life is great and I love my work!
Life is short- Go Fishing!
John Kumiski
www.spottedtail.com