Aye, mateys, 'twas stormy mid-week it was. Friday's trip revealed the water level in the Mosquito Lagoon had risen almost 12 inches since Monday. The fish moved! Thus the winds of change Mosquito Lagoon fishing report.
I have an article in the new issue of Florida Sportsman magazine, thought it looked pretty good! Please check it out!
Upcoming Events-
– On-The-Water Mosquito Lagoon Show and Tell Fishing Seminar March 4. Click this link for more information… http://www.spottedtail.com/mosquito-lagoon-on-the-water-show-and-tell-fishing-seminar/
– River Breeze Paddling Show and Tell Seminar, March 5. Click this link for more information! http://www.spottedtail.com/river-breeze-paddling-show-and-tell-seminar/
Jacqui Thurlow-Lippisch writes an excellent blog about water quality problems at the south end of the Indian River Lagoon, and her latest is simply awesome. You can view it at https://jacquithurlowlippisch.com/2017/02/23/river-kidz-expands-to-all-south-florida-slrirl/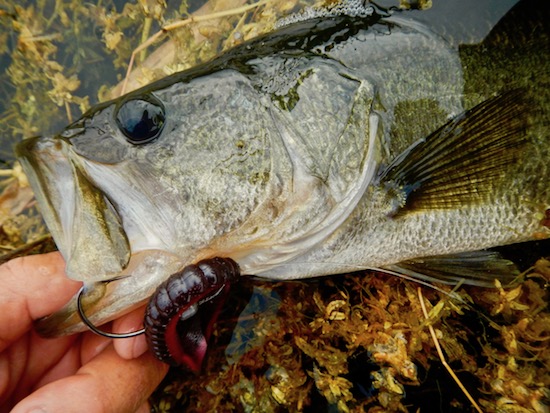 No, it's not very big. But it is a fish.
Sunday afternoon found me thigh-deep in a local pond, tossing a Culprit Fat Max red shad worm with a spinning outfit. Six bites and four released black bass, and the only photos of the week, resulted. Nice way to spend a Sunday afternoon!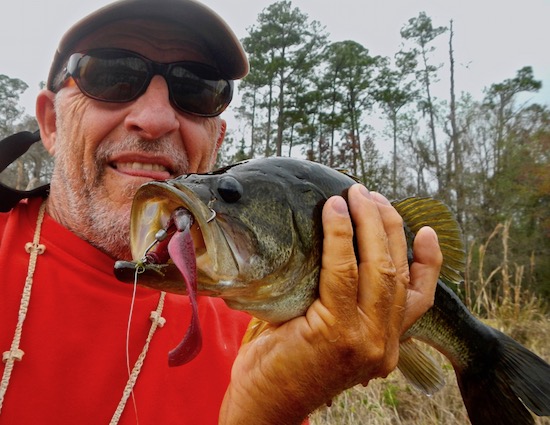 This one was the best of the day.
Monday morning the Mitzi was launched at a very busy River Breeze Park. Dr. Jeff Thill, a fly fisherman, was my passenger. While we visited a few spots that were devoid of life, we also hit three spots that had good numbers of fish. We could not get any of them to bite, however, and the skunk smacked right us in the face. Particularly painful in light of how good the fishing had been.
Tuesday, Wednesday, and Thursday we had clouds, wind, rain, sleet, hail… no, no, sorry, got a bit carried away. No sleet or hail, thank goodness. Anyway, I did not fish those days.
Friday found me in the Ocean Kayak, paddling out of River Breeze Park. The water had risen nearly a foot. I visited the spot where I got that big trout last week- nothing there. Very sad! That spot had been money for weeks.
A short while later I cast a Clouser minnow into a small hole and caught a small redfish, a three spot fish with one spot distinctly amidship on its starboard side. I released it, took two casts, got another bite and caught the same fish again. Which, as it turns out, was the only fish I would catch. And which was kind of strange, too.
I paddled for miles, much of the time while standing, and perhaps saw 10 fish all day, only three of which were seatrout. Did not come close to getting a shot.
So, did the storms and the rising water cause all the fish to move? Stay tuned next week, same time, same channel, for the exciting answer to that burning question!
That is the winds of change Mosquito Lagoon fishing report!
Life is great and I love my work!
Life is short- Go Fishing!
John Kumiski
www.spottedtail.com
http://www.spottedtail.com/blog
www.johnkumiski.com
Latest posts by John Kumiski
(see all)