Hot Mosquito Lagoon Fishing Report
The year is young, but this week was the best fishing of the year. Thus the hot Mosquito Lagoon fishing report.
Upcoming Events-
2017 Fly Fishing Film Festival, February 26, 4 PM. Check the graphic below to get more information.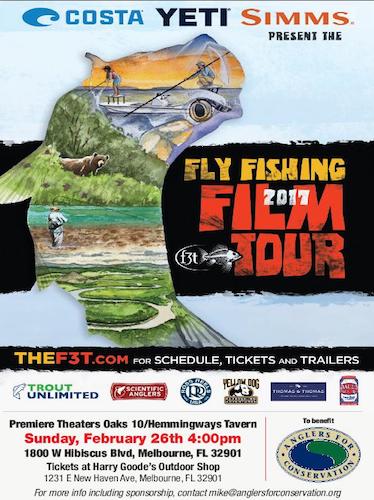 The week started last Saturday with a kayak fishing charter with Mic Lauric of Atlanta and his cousin Patrick, from Houston. The day began as a search mission, and the search paid off, especially for Patrick. He got numerous redfish and a couple nice trout too. Mic also got a few licks in. One was using the DOA CAL Shad, the other the Riptide Sardine. They seemed to work equally well.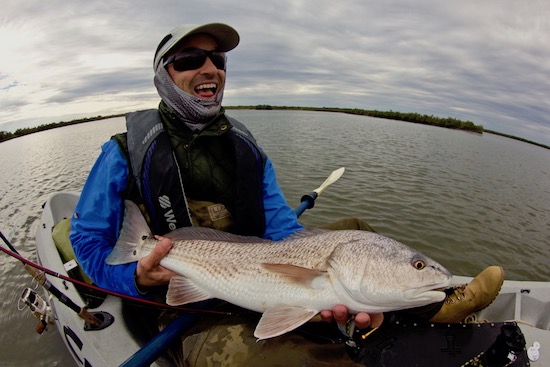 Patrick found this fish tailing in Mosquito Lagoon.
A cold front came through on Sunday. Monday morning found me at AutoNation Toyota with my brides car. They got me out early (just after 9 am!) so I went looking for shad in the St. Johns, launching at SR 50. A couple crappie, a fat bluegill, an anemic redbelly, a beautiful day and boat ride, but no shad. This year's shad run is shaping up pretty sadly for me.
Tuesday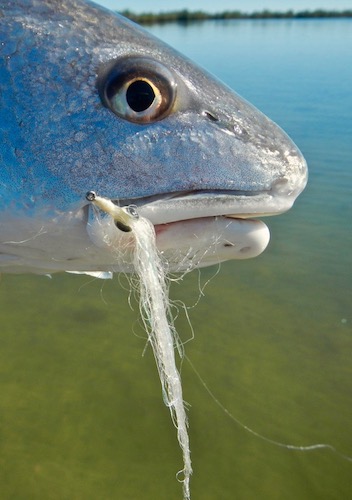 Most of the fish caught on Tuesday fell for this silly fly.
The morning was cold but sunny. I paddled (and dragged) a kayak to the place where Pat and Mic caught their fish. For fly fishers redfishing and seatrout fishing doesn't get much better than it was on Tuesday. Sightfishing big seatrout with a flyrod is tremendous fun. They pull drag!!!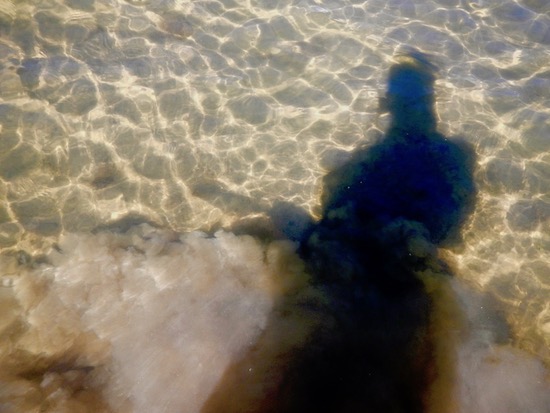 We might have been wading. Wish there was seagrass.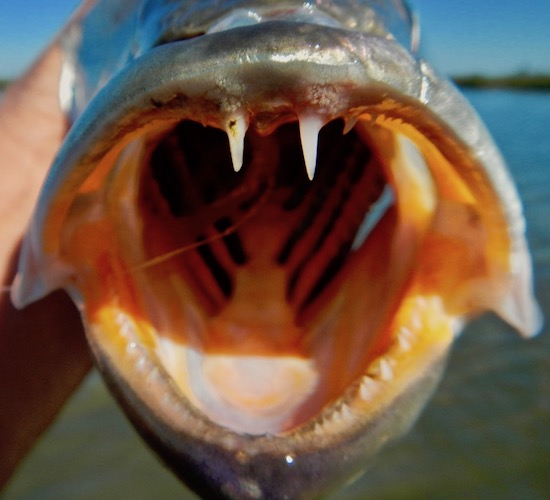 Being a mullet must be awful.
After releasing three trout in the seven-eight pound range the mischievous part of my brain wondered if I could get one on a gurgler. Good shots at four fish resulted in one crap-your-pants take and another seven or eight pound trout. They were all bigger than the reds, beautiful fish, the first time I've been able to sightfish them like that in a couple years. —AWESOME—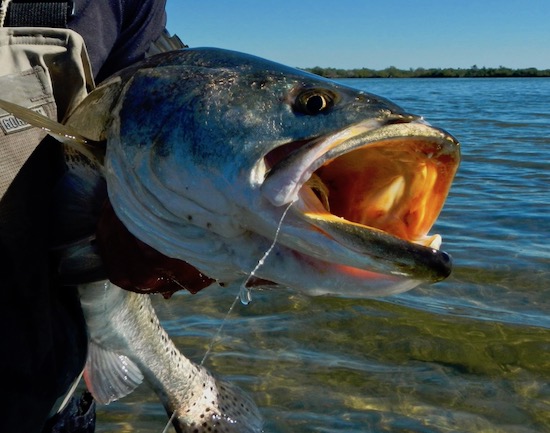 Yes, I do realize I'm blessed.
Wednesday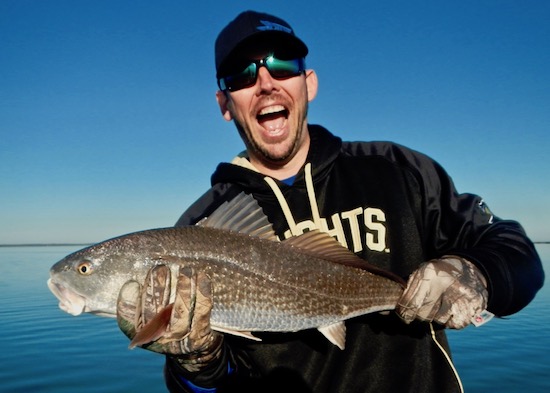 Vince says he caught seven redfish on Wednesday.
Steve Bartek and his buddy Vince, local gentlemen, joined me for some Mosquito Lagoon skiff fishing action. The weather was perfect, cool and sunny, almost windless. We found a spot with a lot of redfish and stayed there all day. Again, they were throwing the DOA CAL Shad and the Riptide Sardine. They seemed to work equally well, and they worked real well, about a dozen redfish worth not counting missed strikes.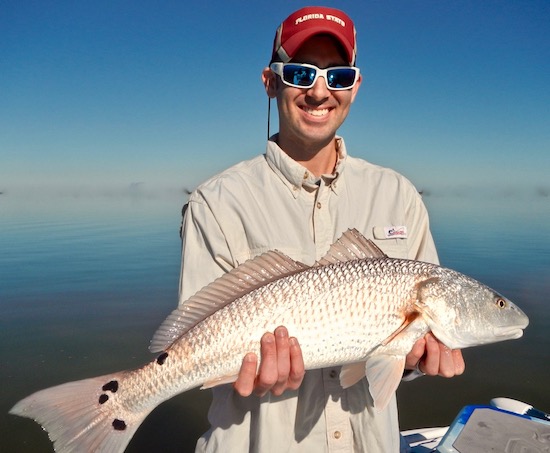 Maybe Steve got the biggest one, though.
Thursday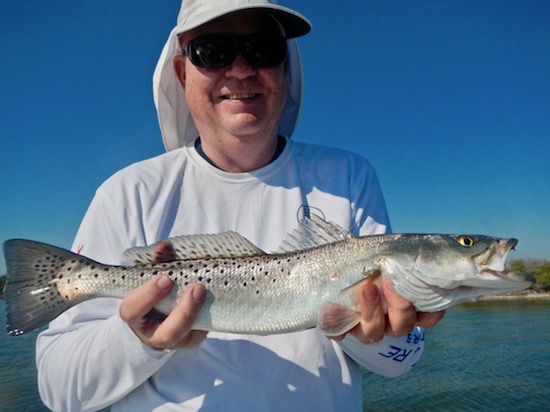 Tom was very pleased with this trout.
Another beautiful day found Mr. Tom Finger of Oviedo, FL in the Mitzi, again on the Mosquito Lagoon. Needless to say we started at the hot spot from the previous day. It almost goes without saying that it was not nearly as hot. After Tom got a red (DOA CAL Shad) the rest of the fish first got lockjaw and then vacated the area.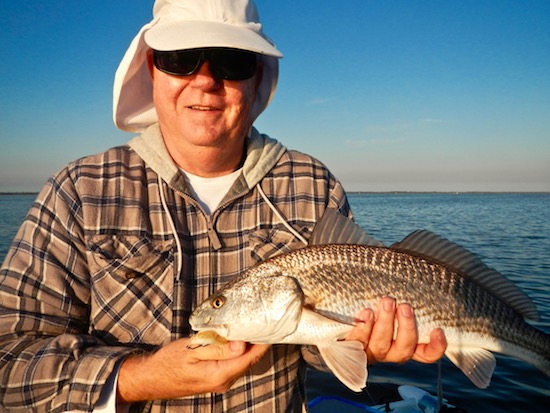 Tom was happy with this red, too!
We went looking at a number of other spots, working hard but picking up several more redfish and trout too. At only one place did we not see any fish. Altogether a good day it was.
Friday
morning I went scouting for a Saturday bass fishing trip. Wasn't I surprised (not in a good way) when I could not get the Bang-O-Craft up the Econ. The water is too low.
My decision to check Lake Harney was foiled by the same problem- shoaling and low water prevented me from reaching the lake, too. I put the boat on the trailer, drove it home, dropped it off, threw a kayak on the van's roof, and went to the Econ.
The water is low and clear, just gorgeous. For our friends in colder climes, the willow trees are leafed out and flowering, as are the red maples. With the quality of light now the river is Clyde Butcher picturesque.
Three hours later the kayak was returned to the van's roof. I did not touch a fish in either place, yes, slapped upside the head by the dreaded skunk. Loved every moment of it.
So, that is this week's hot Mosquito Lagoon fishing report!
Life is great and I love my work!
Life is short- Go Fishing!
John Kumiski
www.spottedtail.com